Wood look aluminum sheet has a high-end and gorgeous pattern, with realistic texture and bright color, and the pattern is firm and wear-resistant.
Wood look aluminium sheet is a high-end metal decorative material that uses high-grade aluminum alloy as the main material, according to the size, shape, and construction form designed on-site. It is formed through technologies such as CNC bending and is coated with a wood grain film on the surface after fluorocarbon spraying. The wood grain film is transferred to the fluorocarbon coating of the aluminum sheet through vacuum transfer printing. The wood grain aluminum sheet produced by the company adopts international advanced new pattern decorative materials, with high-end and gorgeous patterns, realistic color and texture, multiple pattern options, customizable, and the pattern is firm and wear-resistant, without formaldehyde. It is non-toxic and does not release harmful gases, eliminating consumer concerns about the odor and bodily harm caused by paint and adhesive substances after decoration. With excellent quality, it is the preferred material for high-end architectural decoration.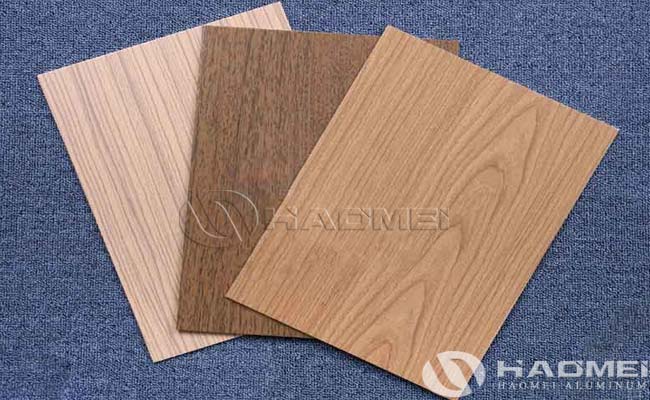 Characteristics of wooden aluminum sheet:
Wood grain aluminum sheetis lightweight, rigid, high-strength, and not easy to deform. Its weight per square meter is only a fraction of other materials, and its rigidity and strength are much higher than other materials.
Good weather resistance and corrosion resistance, rust prevention, damage prevention, and UV resistance. In today's natural environment, the wood look aluminum sheetsurface does not fade for 50 years, greatly reducing maintenance costs and improving the service life of decoration.
Good processability. The wood look aluminium sheet can be processed into various complex geometric shapes such as flat, curved, and spherical shapes by using a process of pre-processing and then painting. The back can be filled with insulation, sound insulation, and sound absorption materials to make it more functional and meet different decoration needs.
Uniform coating and diverse colors. Advanced electrostatic spraying technology makes the paint adhere uniformly and consistently to the wooden aluminum sheet, with a wide range of colors and a large selection space.
Not easily stained, easy to clean and maintain. The non-adhesive property of the fluorine coating film makes it difficult for pollutants to adhere to the surface, and it has good cleanliness.
Convenient and fast installation and construction. The wood look aluminum sheetis formed in the factory and does not require cutting at the construction site. It can be fixed on the framework directly.
Recyclable and environmentally friendly. Aluminum sheets can be 100% recycled, unlike decorative materials such as glass, stone, ceramic, and aluminum-plastic panels, which have a high residual value.
Contact Us
1103, No.14 Waihuan Road, CBD,Zhengzhou, China
+86-0371-65621391