Reflective aluminum sheet metal produced by Haomei has alloy 1060, 1070, 3003 and 5052, thickness is 0.25-3.0mm, the width is 100-1250mm. The reflective mirror aluminum sheet can be flat, slitting, cutting, film according to customer needs. Mirror aluminum sheets with high reflectivity are widely used in the fields of lighting reflectors, solar thermal reflective materials, decoration, panels, housings, signs, luggage, jewelry boxes and other fields.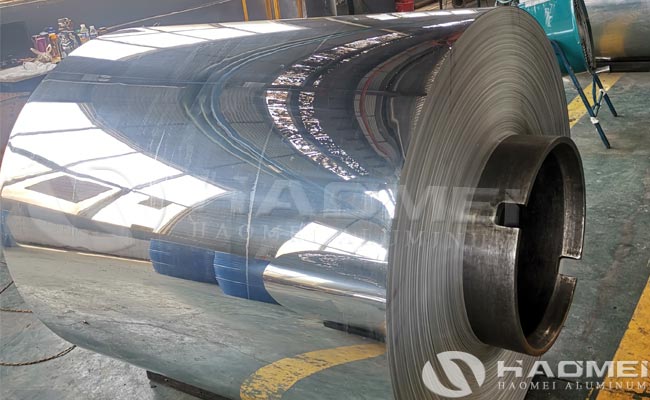 Reflective aluminum sheet is also called as mirror aluminum sheet, polished aluminum sheet, mirror finished aluminum sheet. Mirror aluminum reflective sheet refers to rolled coils and sheets manufactured by rolling, grinding and other methods. At present, our company can provide mirror aluminum sheet and coils prepared by rolling technology. Without increasing the cost, the reflective aluminum sheet has achieved high refractive index and high reflectivity through new processes. It is widely used in lamps, advertising materials, solar reflectors, decorative materials and other fields.
According to the high, medium and low mirror reflectivity of the mirrored aluminum sheet, it can be divided into standard reflectivity aluminum mirror sheet, high reflectivity aluminium mirror sheet and super reflectivity aluminum mirror sheet. According to the surface post-processing method, it can be divided into anodized mirror aluminum sheet and unoxidized mirror aluminum sheet. The characteristics of reflective aluminum sheet metal are: 1) stable price, high cost saving, high reflectivity, 2) light weight and energy-saving texture, 3) easy to mold and hard surface, 4) not easy to scratch and can be processed directly, 5) no pretreatment required.
Contact Us
1103, No.14 Waihuan Road, CBD,Zhengzhou, China
+86-0371-65621391