Haomei Aluminum is a member of famous pvdf coated aluminum sheet manufacturers who offer a wide array of fluorocarbon color coated aluminum sheet product. The pvdf coated aluminum sheet has various specifications such as 2.0mm, 2.5mm, and 3.0mm in thickness, and the maximum size of the pvdf coated aluminium sheet can reach 8000mm*1500mm*2000mm (L*W*H). To ensure product quality, Haomei Aluminum selects raw materials in accordance with international and national standards. The fluorocarbon coating uses well known brands such as American PPG and Dutch AkzoNobel, ensuring stable and reliable product quality.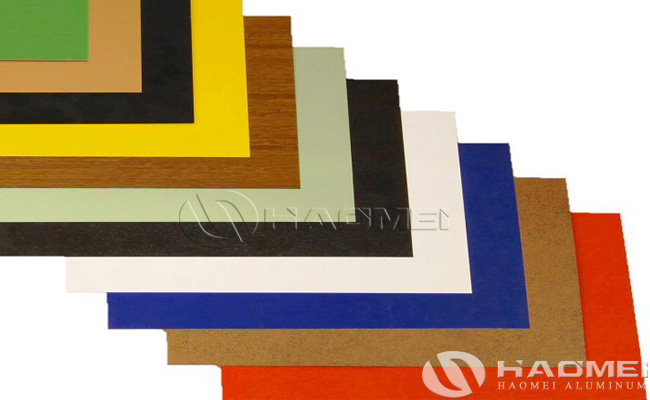 The Fluorocarbon coated aluminum sheet offered by pvdf coated aluminum sheet manufacturers can be used for building curtain walls, interior decoration, partition walls, ceilings, column wraps, advertising signage, shutters, gutters, channel letters, vehicle and ship ceilings and partitions.
Characteristics of fluorocarbon pvdf coated aluminum sheet:
Wide range of colors to meet the color requirements of modern buildings.
Various shapes for strong decoration.
Lightweight, high strength, and quick and convenient installation.
The main component of fluorocarbon polymer coatings is Kynar500 or Hylar5000 fluorocarbon resin, which has a durable molecular structure and is the most stable. This ensures that products treated with fluorocarbon spraying can withstand long-term erosion from wind, rain, industrial exhaust, acid rain, etc., and can withstand harsh weather conditions without discoloration, fading, peeling, cracking, or powdering. The service life exceeds twenty years.
Lightning resistance: Can serve as a good conductor of electricity and quickly transfer the huge current of lightning strikes to the ground through the building grounding system.
Effectively prevents UV penetration and greatly increases oxidation resistance.
Environmental protection: The surface is difficult to adhere to pollutants and can maintain a clean appearance for a long time, making it easy to maintain and clean.
Contact Us
1103, No.14 Waihuan Road, CBD,Zhengzhou, China
+86-0371-65621391