The aluminum mirror roll sheeting is processed by mechanical polishing and rolling to form a mirror effect on the surface of the aluminum coil. The mirror sheeting roll means that the polished aluminum is delivered in coil type. Compared with ordinary aluminum sheet roll, the mirror sheet roll has good reflective effect. The reflectivity of mirror aluminum sheet roll made in China is generally 80%-90%, while the reflectivity of advanced mirror aluminum coils and aluminum sheets is as high as 95% or more. Of course, the price of advanced mirror aluminum coils is sky-high compared to made in china. If the user does not have such strict requirements on the reflectivity, the mirror aluminum roll sheet can be selected, and the price is lower and the cost is reduced.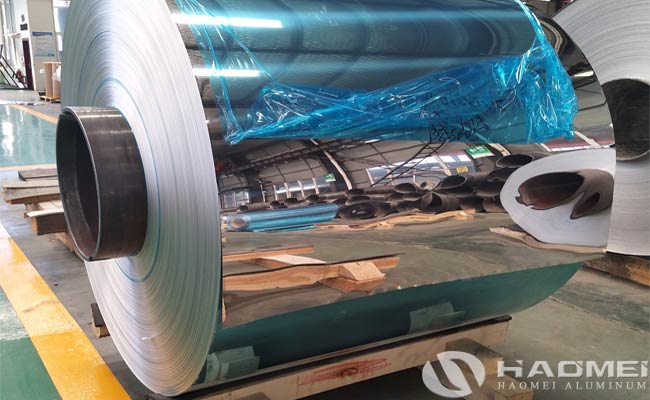 Haomei Aluminum provide high-quality mirror roll sheeting, mirror aluminum sheet and other products, surface film, can provide various processing such as slitting, opening and so on. The reflectivity of our company's mirror aluminum sheet is about 86%, which can better replace the expensive mirror aluminum sheet and reduce the production cost of enterprises. Mirror aluminum sheet and aluminum coils are applied to all aspects of our lives, from the decoration of lamps in the nest to the solar energy on the roof, and to the use of furniture, mirror aluminum sheet are used. In addition to these most obvious uses, mirror aluminum sheet roll also have some other applications that have brought a lot of convenience to our lives.
The advantages of aluminum mirror roll sheeting are:
1, Smooth surface and high reflectivity.
2, It has anti-acid rain and anti-fog functions.
3, Good abrasion resistance.
4, Good plasticity.
5, Has good weldability.
6, Environmentally friendly products.
7, Not easy to deform.
8, Wide range of use.
9, The price is cheap.
10, High recovery rate.
11, Easy to clean.
12, Safe and reliable.
13, Lightweight and beautiful.
14, Shock resistance.
15, Easy to maintain.
16, Colorful.
17, Low-carb.
Contact Us
1103, No.14 Waihuan Road, CBD,Zhengzhou, China
+86-0371-65621391