Haomei Aluminum is one top level large aluminum sheet exporter in China, we supply aluminum sheet cut to size for you. The large aluminum sheet stand for ultra long and ultra wide aluminum sheet. Ultra-long aluminum sheet refers to aluminum sheet with a width of 1800mm and a length of 4000mm or more. Our factory can process specifications with a width of 2000mm or more and a length of 12000mm or less. The international standard width of aluminum sheet is 1000mm, 1200mm and 1220mm. We usually define aluminum sheet with a width of more than 1500mm as ultra-wide aluminum sheet. The general thickness of the ultra wide aluminum sheet can only be more than 1mm, and the material is mainly 5052, 5083, 5086 and 6061 aluminum alloy, and the usual thickness is 1.0-260 mm.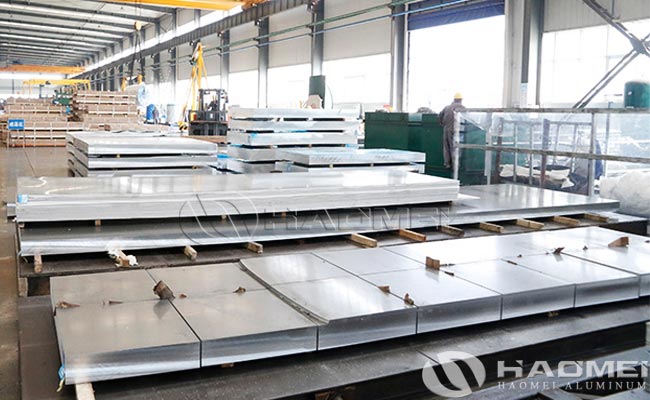 Large aluminum sheet exporter produce ultra-wide, ultra-thick alloy aluminum sheet (maximum thickness: 600mm, maximum width 3000mm). Large aluminum sheet can be applied to ship plates and automotive plates. Haomei Aluminum's large aluminum sheet has won the recognition of customers and the market and created a unique advantages. Especially since it was put into production as a wide rolling range (1+1) production line in Haomei Aluminum, the business volume of thick and wide large aluminum sheet products with 5083 aluminum sheet as the core has increased rapidly, opening up a new situation for the company to penetrate into the market. After the new production line is put into production, the ultra-wide aluminum sheet will become one of the core products of the 1+1 production line. The application range of ultra-wide aluminum sheet is very broad. Taking 5083 ultra-wide large aluminum sheet as an example, tanker aluminum plates, marine aluminum plates and mold aluminum plates are the main areas of application.
The ultra wide aluminum plate produced by large aluminum sheet exporter can be used as the material of the hull, operating table and other parts of the ship. On the tanker, it can be used as the structural material of key parts such as the tanker body, tanker cover, and partition. In major shipbuilding countries, Haomei 5083 alloy large aluminum sheet business has been further improved.
Contact Us
1103, No.14 Waihuan Road, CBD,Zhengzhou, China
+86-0371-65621391