The brushed aluminum sheet thickness is mainly below 3.0-4.0mm, and the grades are 1050/1060/1070/1100-H14/24, 5052-H32, 6061/6063/7075 aluminum sheet. The thickness range of brushed aluminum sheet is 0.18~3.0mm, standard width are 1250mm, available width: 0~1350mm, standard length is 2500mm. The brushed aluminum sheet plays a very good decorative role. The special oxide film makes the brushed aluminum sheet have excellent washability, UV fading resistance, scratch resistance, no fingerprints after contact, anti-static, non-toxic, vacuuming and cleaning are simple.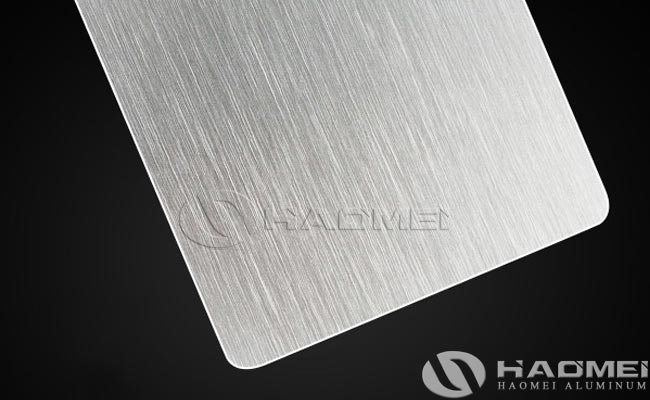 Standard brushed aluminum sheet thickness products are applied to as indoor and outdoor decoration, household appliances, cabinets, veneers, gifts, lighting, signs, bags, furniture, doors and windows, consumer electronics and other fields. The advantages of brushed aluminum sheet are:
The surface is smooth and delicate, with the texture and luster of metal;
High hardness, good wear resistance and corrosion resistance;
The color is bright and beautiful;
Easy to clean and maintain.
There are three main parts in the processing process of brushed aluminum sheet: degreasing, sand mill, water washing, and surface treatment such as imitation copper color, electroplated bronze color, copper color, bronze color, etc. Various colors can be customized according to the color card provided by the customer, and corrugation can be processed wire drawing, thread drawing, spiral drawing, chaotic drawing, cross pattern drawing, etc. The brushed aluminum panel is a single-layer brushed aluminum sheet thickness dedicated to curtain walls such as 1100H24, 1060H24, 3003H24, 5005H24, and the brushed aluminum sheet thickness is 1.5mm, 2.0mm, 2.5mm, 3.0mm. The commonly used specifications are 600×600mm and 600×1200mm.
Contact Us
1103, No.14 Waihuan Road, CBD,Zhengzhou, China
+86-0371-65621391