At present, we can see the use of brushed aluminum sheets everywhere, brushed aluminum sheet has been widely used in our life. The brushed aluminium sheet has different colors and different types, these colors look good and the surface treatment is very practical. In the aluminum grades, 1100, 3003, 6061 and 5052 are common used, and brushed aluminum sheet alloy 5052 has good performance on corrosion resistance.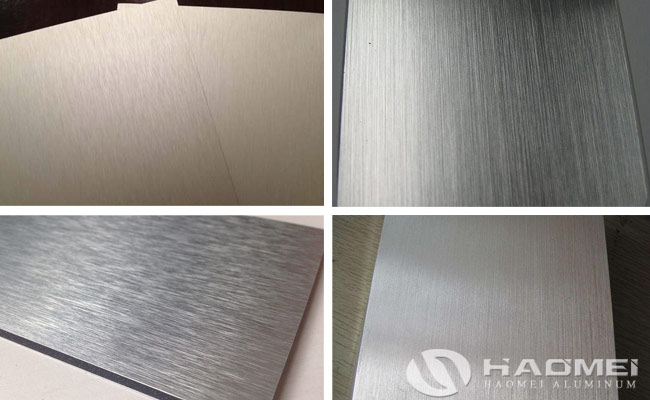 The benefits of surface treatment of brushed aluminum sheet alloy 5052 are reflected in the following aspects:
1, brilliant color: after a number of anodizing treatment, brushed aluminum sheets are rich in colors.
2, scratch-resistant wear: after surface treated, the hardness of anodized brushed aluminum sheets can reach the sapphire, the surface is not easily scratched.
3, anti-fingerprint: high-quality aluminum sheet brushed surface anti-fingerprint effect is amazing, fingerprints can be easily wiped off with dry cloth, paper towels, etc.
4, anti-corrosion: The oxide layer on the surface of the brushed alu sheet can protect the aluminum sheet 5052 from being corroded by corrosive solutions, and is not easy to rust. The service life of the brushed aluminum plate is very long.
5, self-cleaning and environmental protection: the brushed aluminium sheets are anti-static, not easy to absorb dust, easy to clean, environmentally friendly..
The surface treatment of the brushed aluminum sheet alloy 5052 makes it has strong metallic texture, the texture is clear and the surface is uniform. It is a new high-end decorative material popular in fashion. 5052 brushed aluminum sheet is applied in exterior panel decoration for household appliances, 3C and other electronic industries.
Contact Us
1103, No.14 Waihuan Road, CBD,Zhengzhou, China
+86-0371-65621391