The bronze aluminum sheet is a common seen anodized aluminum sheet product with beautiful appearance and good performance. The bronze aluminum plate is mainly brushed together with anodizing processing. The brushed anodized bronze aluminum sheet is widely used for decoration and building materials. The anodized bronze aluminum plate has improved its hardness and wear resistance, good heat resistance, excellent insulation, and enhanced corrosion resistance. The common thickness of anodized bronze aluminum sheet are 1.5mm, 2.0mm, 2.5mm and 3.0mm, the aluminum alloy are 1100 and 3003, and the temper is H24. Conventional aluminum bronze sheet size is 1220mm×2400 and 1300mm×3000. The common seen colors of anodized aluminum plate are from champagne, light bronze to dark bronze all the way to black anodized aluminum sheet.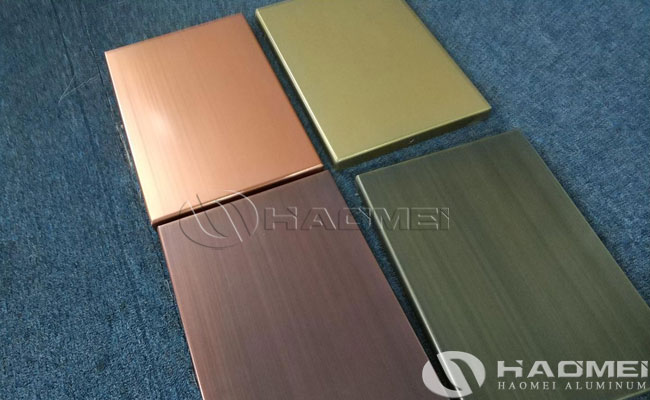 The anodized bronze aluminum sheet is electrolyzed by the electrolyte, and a dense aluminum oxide protective film is formed on the surface of the aluminum sheet. Surface anodic oxidation endows aluminum alloy products with corrosion resistance, surface hardness and wear resistance. After coloring treatment, bronze anodized aluminum sheet has good decoration and is widely used in construction and indoor fields. How much is the price of anodized aluminum sheet per square meter? The market price is around 10 dollars per square meter, and this is just a reference price. Generally, the quotation of the anodized aluminum plate manufacturer should be based on the specifications, thickness, surface treatment and other conditions, or it may be determined by specific needs.
The price of anodized bronze aluminum sheet made by Haolmei Aluminum is reasonable and affordable. Because Haomei Aluminum has 11 years of experience in the production of anodized aluminum sheets, with an annual design and processing of nearly 20,000 tons of aluminum sheets, aluminum coils, anodized aluminum sheets, aluminum checker plate and painted aluminum coils, with a total of more than 100 types of products, with guaranteed reputation and good product quality, and can also provide you with free sample as a reference choice, which can communicate in time. Welcome to ask for sample and order from us!
Contact Us
1103, No.14 Waihuan Road, CBD,Zhengzhou, China
+86-0371-65621391