Aluminium roll with psmr is the abbreviation of aluminum roll with polysurlyn moisture retarder, which is a high end product in insulation materials. As a processing material, polysurlyn film is firmly adhered to the aluminum coil through high temperature and high pressure. The commonly used aluminum roll grades are 1060, 3003 and 5005. Haomei Aluminum can produce polysurlyn moisture barrier aluminum roll with a width of 1220mm. In the production process of Polysurlyn laminated aluminum coil, the quality requirements for the aluminum coil are that it should be oil-free, the plate shape should be flat, the difference between the same plates should be small, and the weight of each coil can reach 2.5-3 tons or 3-5 tons. The inner core can be made of 505 paper tube or aluminum barrel. For exported products, fumigation-free packaging is used, which is suitable for customs clearance by sea.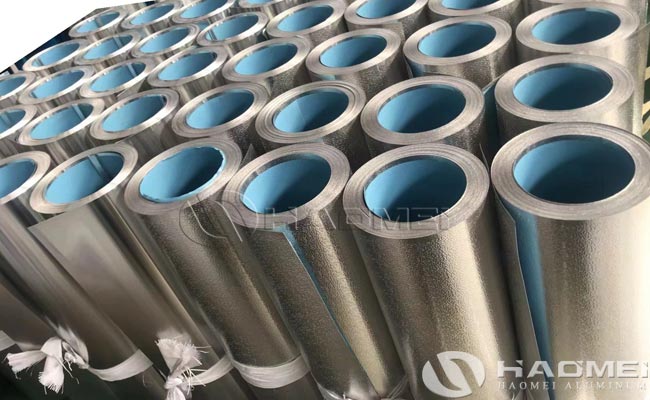 The characteristics of the aluminium roll with psmr:
The bonding of the Polysurlyn film is very strong. Technicians conducted a test by soaking it in water for 24 hours. After being taken out and dried, the bonding degree remained the same as before.
The aluminum roll with polysurlyn moisture retarder of Haomei Aluminum has been tested for its technical performance and meets the performance requirements of similar foreign products. The aluminum jacket with polysurlyn moisture barrier products are exported to Europe, America, and other countries.
The Polysurlyn film polymeric film is imported from abroad and then further strengthened through processing, enhancing the bonding strength. During the lamination process, there is 3-10 millimeters of aluminum left on both sides of the aluminum coil, making it more convenient and practical for insulation processing.
Our company operates with integrity and offers a 10-year quality guarantee for the products we send out.
Currently, there are very few manufacturers that can laminate the aluminium roll with psmr. After 5 years of exploration, Haomei Aluminum has achieved excellent product quality for aluminum roll with polysurlyn moisture retarder, with 80% of the products being exported. The aluminium roll with Polysurlyn moisture barrier is a new type of material that our company focuses on, mainly used for corrosion protection and insulation engineering. Our company exports 10000 tons/year of aluminum with polysurlyn moisture retarder, which have been highly praised by customers.
Contact Us
1103, No.14 Waihuan Road, CBD,Zhengzhou, China
+86-0371-65621391