Haomei is one of the leading aluminium flat sheet suppliers in China, we supply aluminium sheets 1000 series to 8000 series 0.2-150mm thick. Aluminum flat sheets are widely used in lighting, interior architectural decoration, exterior wall decoration, household appliance panels, electronic product enclosures, furniture kitchens, automotive interior and exterior decoration, signs, boxes and other fields.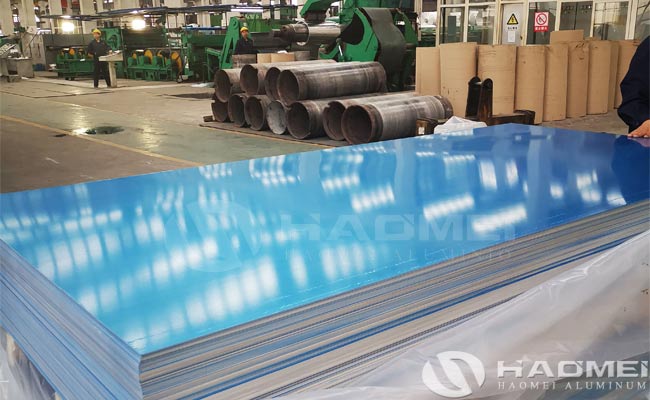 Aluminium flat sheet is widely used in aerospace, mold, instrumentation, and construction. It can also be applied as jacket cladding material to power plants, chemical and petrochemical plants, etc. Due to the excellent characteristics and wide use of aluminum flat sheet, Haomei and other large aluminum processing enterprises are also investing in technology research and development. At the same time, the processing enterprises have introduced advanced production equipment and new roll mills to continuously improve the production process. Therefore, the quality and performance of the flat aluminum sheets are also constantly improving.
Here are some typical application of the aluminium flat sheet:
1, Aluminum sheet for cans
In recent years, the beverage market has grown and the canned beverages have also ushered in a new era. The aluminum cans are applied with 3004 aluminum alloy and 5182 aluminum alloy.
2, Aluminum sheet plate for container
The aluminum sheet for containers should be suitable for shipping, and there must be hardness requirements. Therefore, 3000 series and 5000 series aluminum alloys for containers are more common used.
3, Aerospace aluminum plate
The aluminum plate for aviation is high-end aluminum, mainly applied for aerospace and military, which is strict in the production process for aluminium flat sheet suppliers. The commonly used aluminum plate is 7-series aluminum alloy.
Contact Us
1103, No.14 Waihuan Road, CBD,Zhengzhou, China
+86-0371-65621391