Aluminium 7075 t651 has extremely high mechanical yield strength, high hardness and strong thermal conductivity. 7075 T651 aluminium is a typical 7000 series aluminum alloy, which is an aluminum alloy with zinc as the main alloying element. Aluminum 7075 t651 heat treatment type, solution heat treatment, and artificial aging treatment, the basic tempering is T6, which means solution heat treatment, then quenching, and finally artificial aging. The strengthening elements of aging are Mg and ZnAlCu2. 5 in T651 temper indicates that it has been stretched to release stress, 1 in T651 temper means that the amount of stretch for stress relief is 0.5-2%.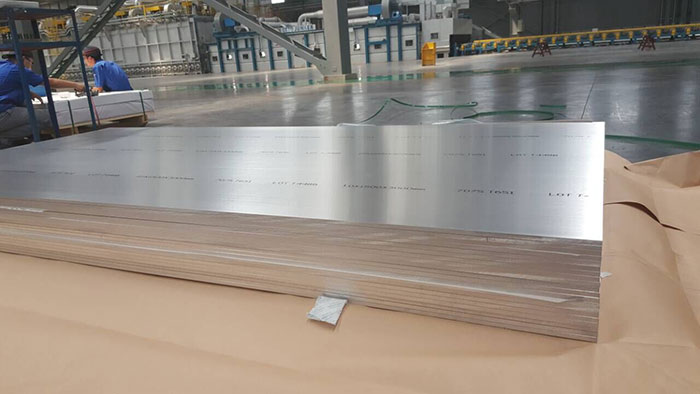 Aluminium 7075 t651 has a tensile strength of 572MPa and a yield strength of 503MPa. Aluminum plate 7075 with temper T651 are applied to aircraft industry, blow molding (bottle) mold, ultrasonic plastic welding mold, golf head, shoe mold, paper mold, foam molding mold, dewaxing mold, templates, fixtures, mechanical equipment, mold processing, used to make high-end aluminum alloy bicycle frames. The wide application is mainly rely on aluminium 7075 t651 properties. The processing characteristics of 7075 T651 aluminum plate are:
1, High strength heat treatable alloy.
2, Good mechanical properties.
3, Easy to use.
4, Easy to process and good wear resistance.
5, The temper of t651 is used to strengthen the corrosion resistance.
6, High-strength materials for high-pressure components.
The aluminium 7075 t651 properties are high hardness and high strength, and the hardness after heat treatment can reach 150HB. Haomei Aluminum offer high quality aluminum plate 7075 in stock, all 7075 aluminum sheets are in T651 temper, and our aluminum 7075 plate have been removed from internal stress to ensure that they will not be deformed during processing and use. The price of aluminum 7075 t651 is higher than pure aluminum, but we can ensure product quality, and our quotation is 5% less than manufacturers with same quality, if you are interested in, send us email or whatsapp online, we offer you good price!
Contact Us
1103, No.14 Waihuan Road, CBD,Zhengzhou, China
+86-0371-65621391