7075 plate is a high-strength aluminum alloy plate, it is the representative grade of 7000 series aluminum alloy plate. 7075 aluminum plate is mainly used for the manufacture of aircraft structures and other high-stress structural parts that require high strength and corrosion resistance, such as aircraft upper and lower wing panels, stringers, etc. After solution treatment, aluminum 7075 plate has good plasticity and is heat treated, good strengthening effect, good strength below 150 degrees, and particularly good low temperature strength, poor welding performance, and tendency to stress corrosion cracking. 7075 aluminum plate is also widely used in mold processing, mechanical equipment, tooling and fixtures, etc.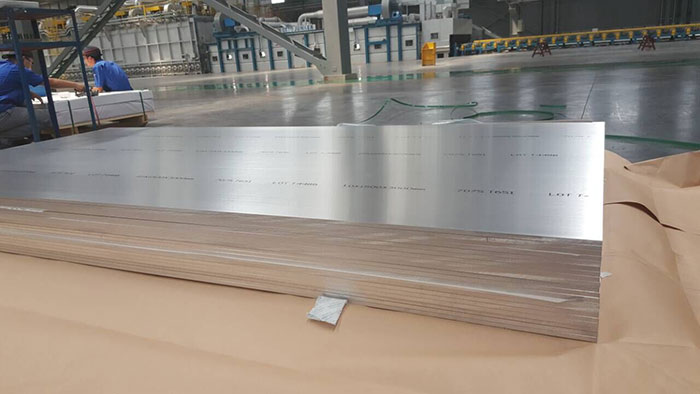 As we can see, 7000 aluminum alloy is another commonly used alloy with a wide variety, it contains zinc and magnesium. Among the more common aluminum alloys, the 7075 plate alloy has the best strength, but it cannot be welded, and its corrosion resistance is quite poor, so many CNC machining parts use the 7075 alloy aluminum plate. Zinc is the main alloying element in this series, and a little magnesium alloy allows the material to be heat treated to very high strength properties. This series of materials generally add a small amount of copper, chromium and other alloys, and among them, the 7075 aluminum plate alloy is particularly high-quality, with the highest strength, suitable for aircraft frames and high-strength accessories.
7075 plate can be seen the product which have widest application in 7000 series aluminum plate. 7075 aluminum plate is used in aviation fixtures, trucks, tower buildings, boats, pipelines and other applications that require strong construction. Such as: aircraft parts, gears and shafts, fuse parts, instrument shafts and gears, parts jump valve parts, turbines, keys, aircraft, aerospace and defense applications.
Contact Us
1103, No.14 Waihuan Road, CBD,Zhengzhou, China
+86-0371-65621391