Aluminum 5 bar treadplate are used to be called non-slip aluminum tread plates, which have 5 bars pattern on the surface to ensure anti skid performance. 5 bar aluminum tread plate have good anti-slip ability and are also more wear-resistant. They can be divided into big five bar aluminum checkered plates and small five bar aluminum checkered plates, which are commonly used products in non-slip aluminum checkered plates.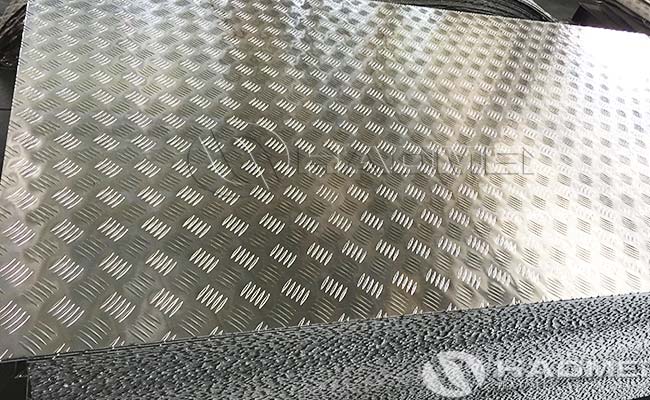 The commonly used aluminum 5 bar treadplate in current market are: 1060 five bars aluminum tread plate, 3003 five bars aluminum tread plate, 5052 five bars aluminum tread plate, 5754 five bar aluminum tread plate, 6061 five bar aluminum tread plates, 6063 five bars aluminum tread plates, 6082 five bars aluminum checker plate, etc. The 5 bar aluminum tread plate has a novel structure and good anti-skid effect, light weight and excellent durability. The mass per square meter is about 7kg, its tensile strength is 200N per square millimeter, the aluminum tread plate has high elongation, and the relative elongation is higher than 10%. It can withstand high bending without breaking and has good toughness. The typical usage is to make non-slip bottom plate, non-slip step ladder, or apply it in packaging, construction, curtain wall, etc. On stairs, we often see the presence of non-slip aluminum plates.
Compared with similar products, aluminium 5 bar treadplate has obvious advantages in hardness and tensile strength. In addition, the five bars aluminum tread plate also has strong resistance to corrosion and rust resistance. Because it has significant effects on beauty, rust prevention, and slip resistance, it is mostly used for working platforms, ships, vehicles, buildings, etc.
Contact Us
1103, No.14 Waihuan Road, CBD,Zhengzhou, China
+86-0371-65621391