As a professional 5 bar aluminum tread plate manufacturer, Haomei specialized in aluminum checker plate producing. The 5 bars aluminum tread plate refers to the aluminum checkered plate with 5 bars patterns on the surface. The patterns on the surface are arranged in parallel according to the five concave and convex patterns, and the angle between each pattern and other patterns is 60-80 degrees. So the 5 bar aluminum tread plate has strengthen performance of beautiful appearance, anti slip and other characteristics. For construction, vehicles, ships, etc., for non-slip flooring, for decoration and decoration.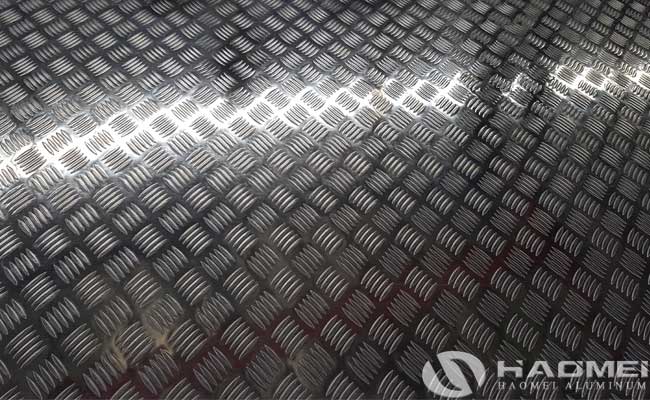 The aluminum alloy grades of 5 bar aluminum tread plate manufacturer are 1060, 1050, 1070, 1100, 3003, 3004, 5052, 6061, etc. The tempers of 5 bars aluminum checker plate are H24, H18, etc. The thickness of 5 bar aluminum tread plate are 1.0-3.0mm, 3.0-10mm, 10-20mm. The aluminum tread plate five bar are usually used in cold storage floors, trucks, elevators, stairs, platforms, and outer packaging. Checkered aluminum plate are widely loved by users because of their decorative and durability characteristics.
1, The 5 bar aluminum checkered plate product has high hardness and good corrosion resistance;
2, The material is dense and defect-free and easy to polish and color;
3, The 5 bar aluminum chequer plate product is novel in shape, durable and has good anti-skid effect;
4, Improves the surface quality of the product as soon as possible. The checker aluminum plate product not only has high gloss, but also has no visible defects.
For different 5 bar aluminum tread plate manufacturer, for different grade of aluminum checker plates, the prices are different. The cost of ordinary aluminum tread plate 1060 in the later production and processing is relatively low, and the price is relatively favorable. In addition, the processing fees are different for different patterns and different thicknesses. Please refer to the specific product consulting aluminum tread plate manufacturer's quotation.
Contact Us
1103, No.14 Waihuan Road, CBD,Zhengzhou, China
+86-0371-65621391