4 8 aluminum sheets is the best-selling alloy aluminum sheet on the market, the alloy are from 1000 series to 8000 series. So the price of the national standard 4×8 aluminum sheet in the market must be of concern to everyone. Haomei Aluminum will analyze the market aluminum sheet price for you.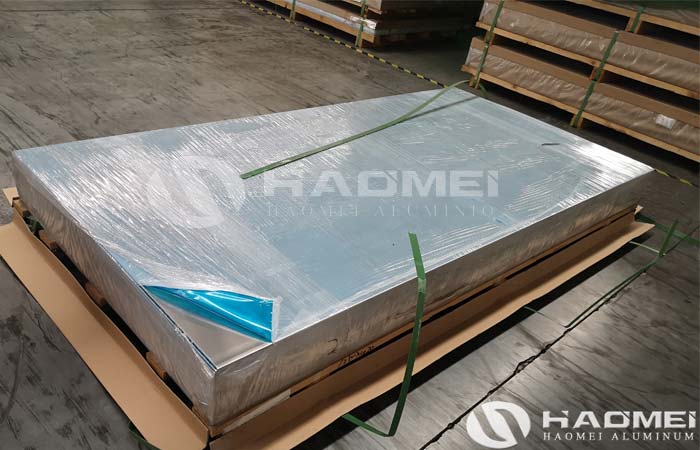 1, Specifications and quality are fundamental
The specifications and quality affect the 4 8 aluminum sheets price is ultimately reflected in the alloy specifications and quality. The aluminum sheet market is becoming saturated, and the price of the 5052 aluminum sheet is lower than that of the 6061 aluminum sheet and the 6063 aluminum sheet under the competition, and the 6061 aluminum sheet is a hot-selling product in the market, with strict process requirements, relatively few manufacturers, and naturally more expensive. There are many 5052 aluminum sheet manufacturers and the market is relatively saturated, so the price of 5052 aluminum sheet is relatively cheaper.
2, 4×8 aluminum sheet manufacturers are the key
At present, there are many 8×4 aluminum sheet manufacturers in China, and there are hundreds of aluminum sheet manufacturers in China alone. Among these manufacturers, the size, nature, and strength of the manufacturers are different, and the quotations for aluminum sheets are naturally different. Consumers are advised to purchase products from large-scale, direct-selling, and powerful manufacturers, because these manufacturers have advanced equipment, high technology, more guaranteed quality, and more reasonable prices.
3, Direct cost factors
The level of cost will directly affect the price level of 4 8 aluminum sheets. In the production process, it is inevitable to spend some investment in manpower, material resources, technology and other aspects. The higher the cost of  4×8 aluminum sheet manufacturers in this regard, the higher the price.
Contact Us
1103, No.14 Waihuan Road, CBD,Zhengzhou, China
+86-0371-65621391