Haomei is a professional 4×8 aluminum sheet supplier in China, which produce aluminum sheet with high quality, low cost and fast production. As an aluminum sheet production factory, Haomei can produce aluminum sheets of various specifications ranging from 0.12mm to 500mm thick and widths of 500-2600mm. The 4×8 aluminum sheet products are widely used in ship boards, tankers, automobiles, electronic products, construction and many other aspects.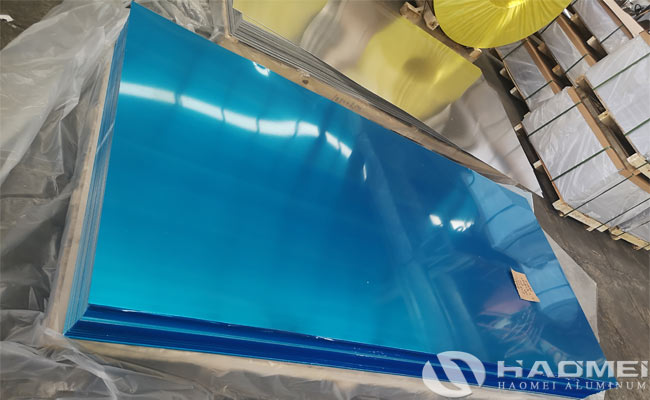 The detailed specification of Haomei 4×8 aluminum sheet are:
Alloys: 1070, 1060, 1050, 1100, 2024, 3003, 3004, 3105, 5052, 5083, 5086,5754, 6061, 6082, 8011, etc.
Temper: H18, H26, H16, H14, H24, H22, O, etc.
Thickness: 0.12~500mm
width: 500~2600mm
length: 800~8000mm
Applications: the main areas are signage dials, building anti-corrosion engineering, vehicle manufacturing, refrigeration, electrical appliance manufacturing and pharmaceutical advertising and other industries.
4×8 aluminum sheet is the common specification of aluminum sheet metal product, and the aluminum sheet 4×8 produced by Haomei has high quality, flat shape, clean surface, low price, excellent sales and after-sales service. When we buy 4×8 aluminum sheet, the strength of aluminum sheet manufacturers is very important. The well-known aluminum sheet manufacturers are selected, the strength is strong, the processing technology is more mature, the products and equipment are advanced, and the products produced are more guaranteed. Haomei Aluminum has 25 years of production and processing experience and an annual output of 200,000 tons, our strength is strong and the 4×8 aluminum sheet product quality is guaranteed.
Contact Us
1103, No.14 Waihuan Road, CBD,Zhengzhou, China
+86-0371-65621391