3003 prepainted aluminum coil is a product that has been rolled and painted, that is, the aluminum coil with paint on the surface, which has a long service life and good decorative effect. Haomei Aluminum provide color coated aluminum coils and color coated aluminum sheets with 3003 H24, and thickness of 0.2-2mm. Prepainted aluminum coils can provide fluorocarbon paint, polyester paint, and epoxy paint can specify the paint brand. Besides of 3003 aluminum, other aluminum grades can be provided, such as 1050, 1060, 1100, 3004, 3104 and 5052 aluminium. For colors of prepainted aluminum coil, national standard color card, Raul color card color matching can be provided, and sample color processing can also be provided. The film has no scratches and color difference, and is suitable for architectural decoration, anti-corrosion insulation, roofing, wall and other aspects. Haomei Aluminum also provides embossed coated aluminum coil, marble, wood grain and other decorative painted aluminum coil.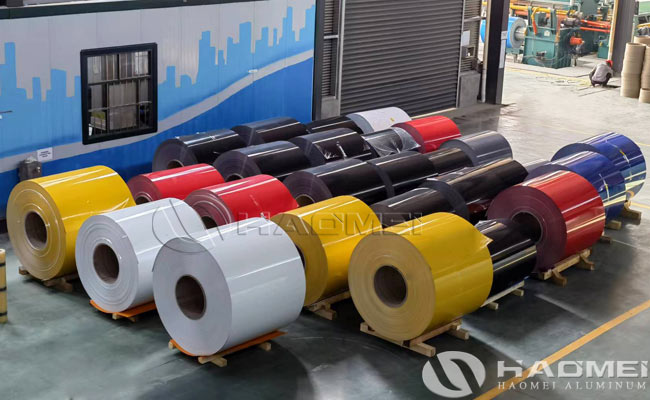 3003 prepainted aluminum coil are mainly two kinds of paint films: polyester coating and fluorocarbon coating. At present, the thickness of prepainted aluminum coils is between 0.2-2mm. The current mainstream colors are white, red, blue, silver gray, etc. Customers can choose different colors through the Raul color card according to their own needs. In addition, our company's polyester prepainted aluminum coil covers single-coat, double-coat and back-coat, and the specific standards can be consulted with us. For check the quality of 3003 prepainted aluminum coil product, the coating type, coating thickness, coating color, color difference, surface quality, coating layer, bend performance and service life should be considered.
The front coating performance selection of 3003 prepainted aluminum coil mainly refers to the selection of coating type, coating thickness, coating color difference, coating gloss, coating hardness, coating flexibility/adhesion, coating durability and other properties.
Contact Us
1103, No.14 Waihuan Road, CBD,Zhengzhou, China
+86-0371-65621391