Pre painted aluminum sheet coil 3003 3004 0.18-1.5mm are usually applied in roofing system with PE or PVDF coating. Pre painted aluminum also known as prepainted aluminum, color coated aluminum or coated aluminum, the width is 580-1850mm, the delivery is in sheets or coil rolls. Besides of used in aluminum roofing sheet coil, pre painted aluminum sheet coil also has other application.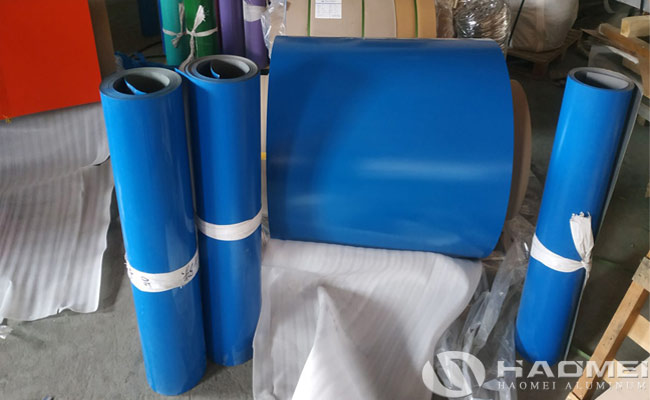 1, Ceiling system
After more than ten years of development, the materials of the building ceilings are constantly being updated. At present, with the development of construction industry, metal ceilings have won popular favor due to the unique characteristics of fire prevention, leveling and easy cleaning. Compared with traditional materials, metal ceilings, especially color coated aluminum ceilings, have many advantages, such as good fireproof and waterproof performance, light weight, high strength, easy installation, good sound absorption and sound insulation, easy cleaning of soot, long service life, not easy to deform and discolor .
2, Interior system
In the indoor interior system, with the improvement of people's living standards, the application of color coated aluminum products will become wider. The wood and stone color coated aluminum is coated on the base color primer layer by a coating roller with wood grain or stone grain coating and baked, and then coated with fluorocarbon resin varnish and baked. This kind of aluminum product not only realizes the realistic effect of wood and stone, but also has the advantages of light weight, convenient construction and smooth appearance. The embossed pre painted aluminum coil can be coated with various patterns according to customer needs, which is beautiful, streamlined and strong.
Contact Us
1103, No.14 Waihuan Road, CBD,Zhengzhou, China
+86-0371-65621391