At present, there are many aluminium sheet manufacturers who supply wholesale aluminum sheet metal on the market. Haomei Aluminum offer wholesale aluminium sheet with alloy 1050, 1060, 1070, 1100, 3003, 3004, 3104, 3105, 5052, 5083, 5086, 5454, 5754, 6061, 6063, 6082, 6182 and 7075. When choosing wholesale aluminum sheet, it depends on the aluminum sheet manufacturer's strength, supply capacity, product quality and price. In terms of aluminum sheet metal suppliers, try to choose strong and large scale manufacturers for consultation. In terms of price, compare the local aluminum sheet manufacturers with those from other countries. In terms of quality, through inspection of the aluminum sheet metal factory's production equipment and technological level.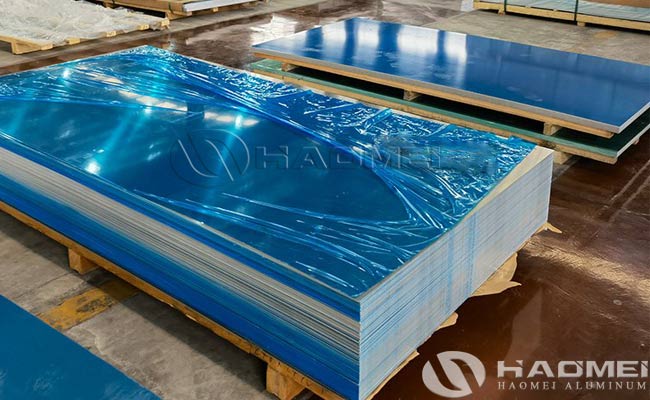 People who often purchase wholesale aluminum sheet metal will find that the aluminum sheet product with high quality are often laminated with film on the surface. Laminating is a physical process in which layers of aluminum sheet metal are laminated through high temperature and high pressure. A film coated aluminum sheet metal is an aluminum sheet covered with a protective film. Usually there are two kinds of single-sided film and double-sided film. The protective film is a polyethylene film, the colors can be blue, yellow transparent and so on. The common thickness of wholesale aluminum sheet is too much. The common thickness of the protective film of aluminum sheet metal is about 0.1 mm.
The wholesale aluminum sheet metal has a certain degree of scratch resistance after the film is processed. For example, due to the soft texture of aluminum during the transportation process, minor scratches often appear, resulting in surface defects, and if the film is applied, it will be better in this respect In addition, minor processing will not cause this problem. For example, in cutting, bending and other processing processes, if you want to ensure a good surface, it is recommended to use film laminated aluminum sheet metal. Wholesale aluminum sheet with high surface requirements can be directly filmed in the leveling equipment, so that there will be no scratches during packaging and transportation, and static electricity problems can be effectively avoided.
Contact Us
1103, No.14 Waihuan Road, CBD,Zhengzhou, China
+86-0371-65621391