With the development of the industry, people's awareness of the importance of lightweight, service life, cost, and damage value is getting deeper and deeper, making white aluminum sheets 4×8 for trailer siding more and more adopted in the manufacturing and repairing process of trailer trucks and replace steel material. The white aluminum sheets is often used for trailer siding and trailer roofing, the common applied specification is 4×8 sheets or in rolls.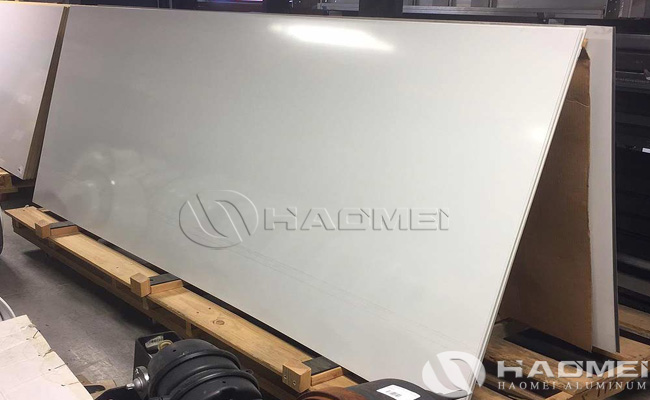 The white aluminum sheets 4×8 for trailer siding adopt 3000 series and 5000 series aluminum alloy, which has the characteristics of light weight, high strength, good heat insulation, good air tightness, good corrosion resistance, good repairability, and beautiful appearance of the trailer body. The interior of the produced trailer side panel is firmly bonded, the overall strength is high, and the surface is very flat (flatness error ≤ 0.3mm/m2), which eliminates the frequent quality problems such as bubbling and wrinkling of the trailer side panel. The aluminum sheet for trailer is easy to clean and corrosion resistance, the colored coat used on the outer surface of the white aluminum sheets makes the surface of the trailer side panel smooth and clean, and the dirt can be easily removed from the entire panel. And white aluminum trailer sheet has good chemical stability to the atmosphere, water and medium concentration of acid, alkali, salt and other media, and can keep the surface smooth and not discolored for a long time, corrosion-resistant, sun-proof, anti-aging.
The trailer panel is made of wear-resistant white aluminum sheets 4×8 for trailer siding material, which completely seals the perimeter of the carriage of the truck or trailer vehicle. At the same time, it can also withstand strong wind pressure, which can prevent wind, rain, dust and block external hot air. The function of keeping the cold air inside the trailer and reducing the outflow.
Contact Us
1103, No.14 Waihuan Road, CBD,Zhengzhou, China
+86-0371-65621391