Haomei supply white aluminum sheet metal applied for trailer, the inner and outer skins of the trailer can be made of prepainted aluminum without joints. The main features of the aluminum trailer body are light weight, impact resistance, strong sealing, cold leakage, water leakage, corrosion resistance, sun insulation, flame retardant, easy cleaning, long service life. White color coated aluminum sheet is the common seen product that applied to trailer, it has moderate strength, good impact resistance, good oxidation performance, the surface can be painted a variety of colors.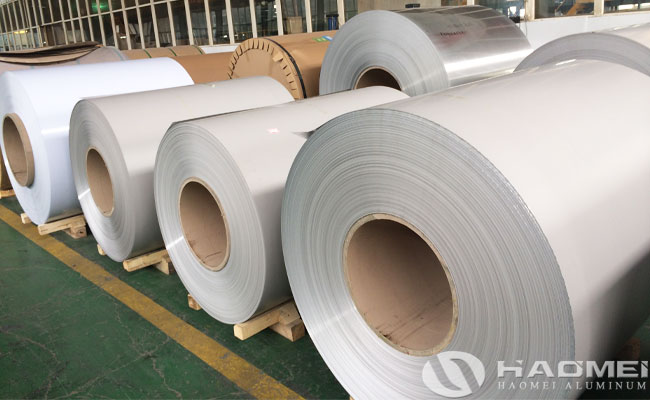 Because the aluminum sheet metal is resistant to bending and bending, it can withstand harsh environments such as outdoor ultraviolet radiation, wind and rain, and does not change color. Therefore, aluminum sheet for trailer is widely used in transportation field: manufacturing of outer shells and inner walls of box trucks, car body panels, train carriage panels.
Haomei supply 3003, 3004 and 3104, 3105 PE and PVDF color painted aluminum sheet (white), the thickness is 0.18-1.5mm, the width is 580-1580mm, the coated film thickness is over 25um, and the surface is required to be covered with a transparent protective film if the customers required. Because colored painted aluminum sheet for trailer have roller coating processes, the price of colored aluminum is closely related to factors such as paint quality, paint thickness, and paint color. In addition, the painted aluminum sheet metal is also related to the type of fluorocarbon or polyester.
The use of white aluminum sheet metal in the car compartment can reduce the overall car mass to a certain extent and reduce the weight of the car body, thereby reducing carbon dioxide emissions, improving fuel efficiency, and ensuring energy saving effects to a greater extent. The welding performance of the carriage body is greater, which increases the safety factor of the vehicle.
Contact Us
1103, No.14 Waihuan Road, CBD,Zhengzhou, China
+86-0371-65621391