The advantages of trailer skin aluminum are light weight but high strength. That is to say, under the same strength, the weight of aluminum trailer is small. In other words, under the same weight, aluminum trailer is strong. In aluminum alloy trailers, the structural requirements are particularly important. For example, in some places that need to bear relatively large forces, the extruded profiles must be used to bear the weight. The use of aluminum sheet to manufacture trailers skin has great economic and social benefits, and it reduces the main reason why light-weight aluminum is selected. Application of aluminum sheet for trailers: 5000 Series Alloy: 5182 aluminum plate, 5083 aluminum plate, 5086 aluminum plate, 5052 aluminum plate, 5454 aluminum plate and 5754 aluminum plate, 6000 Series Alloy: 6061 aluminum plate, 6063 aluminum plate and 6082 aluminum plate.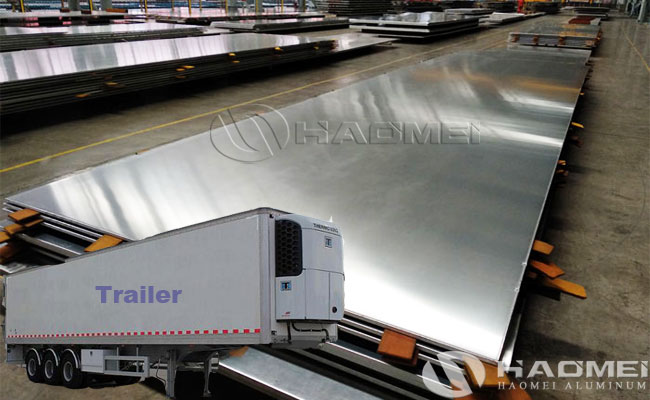 The side panels of the trailer skin and the inner panel are 5052 alloy aluminum plates with a thickness of 4-5mm. The trailer body is composed of aluminum alloy plates and extruded aluminum profiles. The aluminum profile is used as a column, and the middle is thicker and has a flange. The thickness of the flange equal to the thickness of the aluminum alloy plate, the butt joint of the aluminum alloy plate is located at the reinforcing rib, and the upper and lower sides of the aluminum alloy plate are supported on the flanges of the upper and lower beams of the aluminum profile. In addition, 2.5mm, 3mm, 4mm, and 5mm anti-skid aluminum tread plates are usually used in the trailer floor, and the application of anti-skid aluminum checker plates in automobiles is also increasing year by year. The use of trailer aluminum sheet can reduce the overall quality of the trailer to a certain extent, realize the lightweight of the trailer body, thereby reducing carbon dioxide emissions, improving fuel efficiency, and ensuring energy-saving effects to a greater extent.
Trailer skin aluminum has better toughness and better resilience. The lighter weight can be used to load goods and create more profits. This is also the biggest selling point of aluminum alloy trailers. Under normal load conditions, aluminum alloy can fully meet the requirements of use. Aluminum alloy plates have good oxidation resistance, corrosion resistance, and excellent rust resistance. The finished aluminum plates for trailer skin can last for a long time. Aluminum alloy is easy to recycle and more environmentally friendly.
Contact Us
1103, No.14 Waihuan Road, CBD,Zhengzhou, China
+86-0371-65621391