The trailer panels mainly including trailer side panels, trailer roof panels, trailer front panels and so on. Nowadays, aluminum must be an important role of trailer panel making. The trailer body made of aluminum has good thermal insulation performance, which also effectively reduces the mass of the RV and makes the trailer lighter.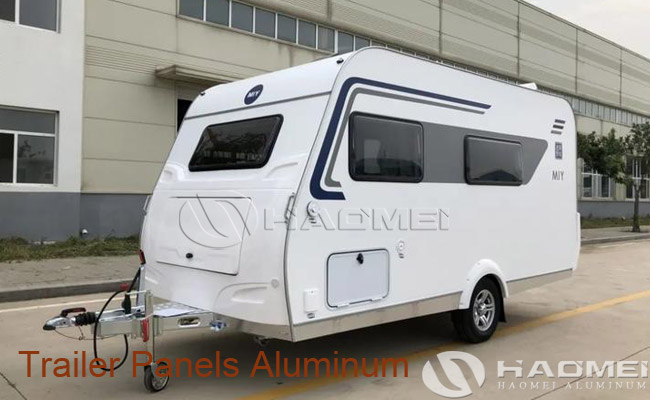 Aluminum is the most commonly used exterior trailer panels material. The structure (hammered or micro-hammered) stamped into the aluminum sheet makes it more stable. The trailer body of hammered aluminum sheet material only needs a thickness of 0.6 mm, which is very beneficial to reduce the weight of the body. Smooth aluminum trailer sheet is usually more expensive and has a higher quality. To prevent curling of the smooth aluminium sheet, its thickness must be about 0.8 mm. It makes the outer body of the RV more solid and durable, and it is easier to clean. The extra wide aluminum for trailers makes the use number of sheets less welded and spliced, making the trailer body very smooth and tidy.
The roof and bottom of the trailer panels are made of high strength material, which can prevent hail and small and medium impacts. The front and rear of the trailer are made of aluminum diamond plate metal. The body is made of high-performance white painted aluminum sheet, which has beautiful appearance and good thermal insulation performance. The high strength aluminum trailer sheet has good stability and rigidity. The aluminum trailer panel material is 3003 H18, the quality is very light, the flatness is high, the flame retardancy is good, the bending strength, compressive strength, and peel strength are high. It has been used in new energy buses as floors, RV partitions, Desktop board, square cabin car, modified car are all useful.
Contact Us
1103, No.14 Waihuan Road, CBD,Zhengzhou, China
+86-0371-65621391