HAOMEI Aluminum is a trustworthy thick aluminum sheet manufacturer in China who produce and export aluminum plate 1000 series to 8000 series. Thick aluminum sheet means the aluminum with thickness over 20 mm, mainly less than 600mm. The thick aluminum plate product are usually applied to automobiles, shipbuilding, yachts, boat, construction, decoration and molds. Haomei supply aluminum alloy thick plate with excellent performance, and they have been widely used in various sectors of the national economy, especially the tool and die manufacturing industry (including aluminum ingot casting molds), ship manufacturing and aerospace manufacturing. The cost of making plastic molds with cast aluminum alloy thick plate is at least 35% lower than that of steel molds, aircraft and machine parts made of aluminum alloy thick plate can replace most forgings.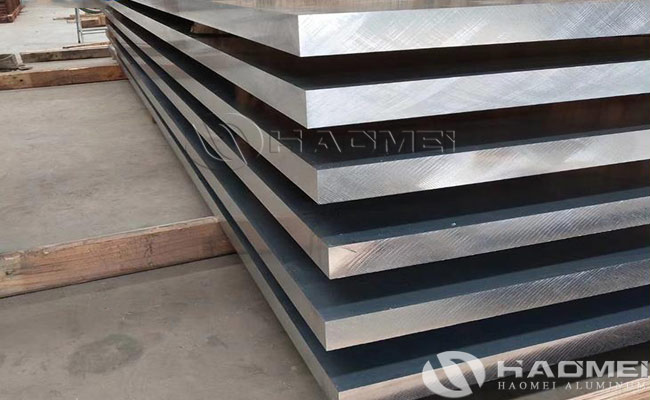 Aluminum alloy thick plate is a high-tech and high value-added product. So the thick aluminum sheet manufacturer  control the surface condition and flatness, the thickness accuracy and the appearance after anodization can be improved. Improve thick aluminum sheet strength, toughness, corrosion resistance and fatigue performance have been the development trend of aluminum sheet manufacturer. The alloys of thick aluminum plate include: 2000 series of 2014, 2024 and 2017 alloys for aircraft industry; 4000 series of 4032 precision casting heavy plate tooling aluminum alloys; 5000 series of 5052, 5083, 5086, 5454 and 5754 aluminum alloy for mold, shipbuilding, automobile and tankers. 6000 series 6005, 6012, 6061, 6063 and 6082 alloys; 7000 series of 7005, 7050, 7075 for aerospace industry.
Thick aluminum sheet manufacturer Haomei supply aluminum alloy thick plate used in various applications. For example, semiconductor-related devices such as base plates, conveying devices, and vacuum chambers; electrical and electronic components and their manufacturing devices; daily necessities; mechanical components, etc. Such aluminum alloy materials are generally manufactured as follows. That is, an aluminum alloy as a raw material is melted and cast to produce an ingot, and if necessary, homogenization heat treatment is performed, and then the ingot is rolled to a predetermined thickness.
Contact Us
1103, No.14 Waihuan Road, CBD,Zhengzhou, China
+86-0371-65621391