Haomei Aluminum supply rolls of aluminum in alloy 1000 series to 8000 series, which the most common seen grade are 1060, 3003, 5052 and 6061. Aluminum rolls is aluminum sheet plate product in coil state, it is also have wide application, let us take a look at it.
1, Aluminum Magnesium Manganese Alloy Coil
The aluminum-magnesium-manganese alloy roll of aluminum coil is processed by fluorocarbon roller coating and is widely used in many landmark buildings such as aircraft terminals and railway stations throughout the country. Because of its excellent quality, it is widely praised in the industry.
The typical alloy state is: 3004H24, 3004H26, 3003H24;
Typical thickness range: 0.6mm, 0.7mm, 0.8mm, 0.9mm, 1.0mm, 1.2mm;
Width: according to customer requirements, 500mm, 600mm width can be slit;
Color: common sea blue, silver gray, large wall gray and other colors.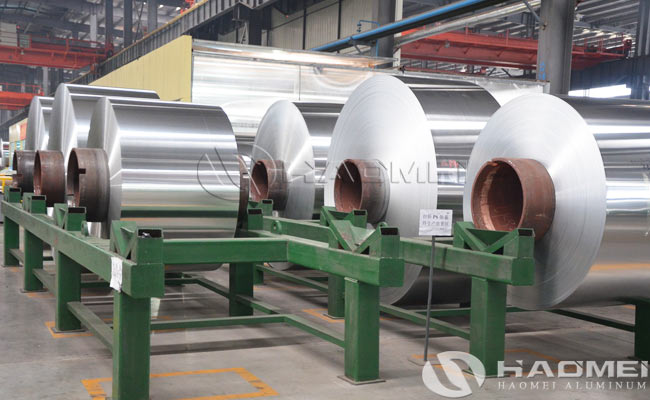 2, Aluminum coil for aluminum ceiling
Aluminum alloy ceilings (aluminum ceilings) are widely used in airports, station waiting halls, subway stations, business buildings, shopping malls, hotels and other entertainment venues and home decoration. It is a modern ideal interior decoration material. The surface of the aluminum alloy ceiling is treated with polyester roller coating, which is rich in color, light in texture, environmentally friendly and non-polluting. It has good fire resistance and moisture resistance, does not change color, and is easy to clean. The product can be molded at one time, and has multiple board shapes, smooth lines, easy assembly and disassembly, easy maintenance, and good appearance.
Common alloy states are: 1060H18, 1060H24, 3003H24, 3003H26, 3004H24, 3004H26
Common thickness: 0.6mm, 0.7mm, 0.8mm, 0.9mm, 1.0mm
Common width: any width between 200mm—1300mm
3, Aluminum coil for aluminum curtain wall:
Aluminum curtain wall panels are a new type of material for curtain walls. The main features are lightweight, fireproof, waterproof, mothproof, mildewproof and crack-proof. The construction is convenient and simple, and aluminium composite panel is suitable for various indoor and outdoor decoration materials.
4, Aluminum coil for household appliance plate:
High-end appliance rolls of aluminum has the advantages of both organic polymer and thin plate substrate. It not only has the good coloring, formability, corrosion resistance and decoration of organic polymer polymer, but also the high strength and easy processing of thin plate. It is easy to carry out deep processing such as punching, bending, deep drawing, etc., so that products made of this material have excellent practicability and durability. At present, this new type of material is mainly produced by roller coating and filming processes.
Contact Us
1103, No.14 Waihuan Road, CBD,Zhengzhou, China
+86-0371-65621391