PVDF sheet aluminum, also known as Fluorocarbon aluminum sheet and PVDF aluminum sheet, is the most common seen color coated aluminum product on the market. The PVDF aluminum sheet has strong thermal stability, and is relatively resistant to abrasion, impact resistance, UV resistance, radiation resistance, gloss and color retention, chemical corrosion resistance and stain resistance. The aluminum grade of PVDF coated aluminum are 3003 and 3004, which 3003 aluminum alloy with Mn-Mg element is usually used. The thickness of pvdf color coated aluminum sheet is 0.18-1.5mm, the width is 580-1850mm, please notice that the PVDF thickness if over than 25um in Haomei Aluminum, which have better performance and last longer.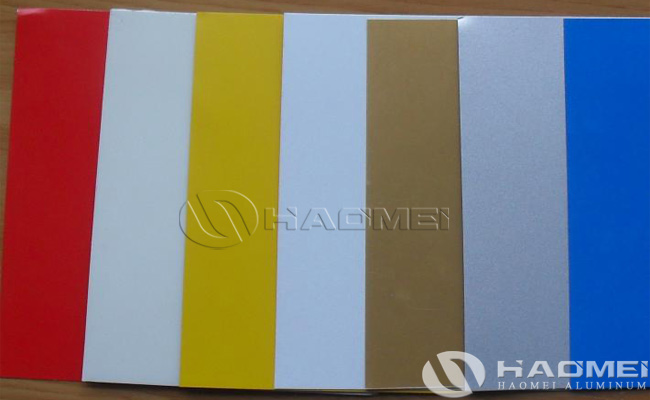 Fluorocarbon coating of pvdf sheet aluminum has excellent corrosion resistance and weather resistance, can resist acid rain, salt spray and various air pollutants, has excellent resistance to cold and heat, can resist strong ultraviolet radiation, and can maintain long-term no fading and no chalking ,long lasting. The whole process of the production equipment of pvdf color coated aluminum sheet is automated, and the coating quality completely reaches the level of imported color coated aluminum sheet, in line with national standards, and has passed a number of professional inspections.
The pvdf sheet aluminum 3003 supplied by Haomei Aluminium have the following advantages:
1, Zero chromatic aberration, the paint is directly customized and adjusted by the manufacturer.
2, The entire coating film and surface are non-granular and non-porous.
3, Environmentally friendly paint, no pollution.
4, Smooth surface, high flatness.
5, Strong weather resistance, can adapt to different environments.
6, Ultra-low loss, high utilization rate, saving project expenses.
7, No flow marks caused by too thick coating during spraying.
8, Good self-cleaning, surface dust and other contaminants can be easily washed away when exposed to rain.
Contact Us
1103, No.14 Waihuan Road, CBD,Zhengzhou, China
+86-0371-65621391