PVDF fluorocarbon coatings for prepainted aluminum 3003 are the darling of the existing architectural coatings market.  And can be said to be recognized as organic coatings with extremely protective effects. Aluminum-magnesium-manganese 3003 aluminum is an alloy material composed of three elements of aluminum-magnesium-manganese. It has the advantages of high strength, good toughness, corrosion resistance and aging resistance. Its structural strength is moderate, weather resistant, stain resistant, easy to bend and welded, etc. Unparalleled cost performance, it is considered to be a roof and exterior wall material with a service life of more than 50 years.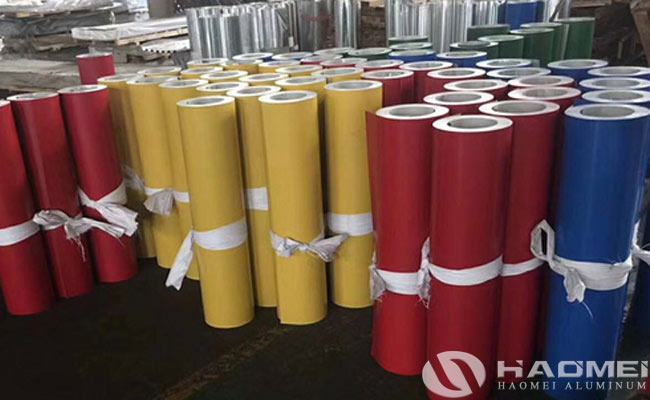 The aluminum-magnesium-manganese 3003 sheet coil with fluorocarbon coating material used in metal construction can keep it undamaged for decades and always maintain beautiful colors. So far, fluorocarbon prepainted  aluminum-magnesium-manganese panels have been used in buildings in various fields around the world for more than 30 years, and they have maintained their excellent performance. Color coated aluminum sheet 3003 generally has a thickness of 0.024mm-4.0mm and a width of 1700mm or less. Besides of PVDF coating, there is also PE coating, which is low cost and can be used for interior decoration. The color of prepainted aluminum can be read, green, blue, yellow, white, black and so on. PVDF is polyvinylidene fluoride. Due to the electronegative properties of fluorine atoms, it forms a very stable fluorocarbon bond. Coupled with its unique molecular symmetry, PVDF has extraordinary stability and unique resistance to ultraviolet light degradation. As well as excellent insulation and mechanical properties. Since the application of fluorocarbon-coated aluminum-magnesium-manganese sheet, the pretreatment of aluminum-magnesium-manganese plates has gradually developed in the direction of simplicity and high performance.
Before the anti-corrosion construction of the aluminum-magnesium-manganese prepainted aluminum sheet coil, some more economical and practical pretreatment measures must be taken for later use. So how to prevent corrosion of aluminum-magnesium-manganese color coated sheet? In the past, the most commonly used pretreatment method was to treat the surface of the aluminum-magnesium-manganese coated coil with an acid or alkaline solution to dissolve the oxide layer, rust and oil stains on the surface, and then perform the next step of anti-corrosion treatment.
Contact Us
1103, No.14 Waihuan Road, CBD,Zhengzhou, China
+86-0371-65621391