Haomei supply prepainted aluminium 3003 and 3004 with thickness of 0.18-1.5mm, the width is 580-1850mm. Haomei is a prepainted aluminum coil supplier in China with over 15 years' experience, we can offer high quality color coated aluminum coil and sheet PE and PVDF coating.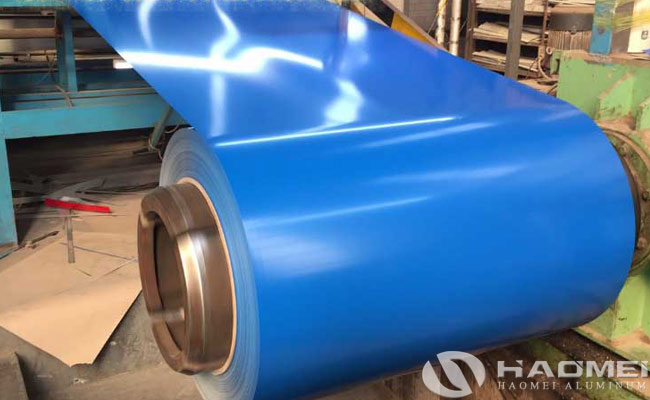 The production of color coated aluminum adopts the production process of two coating and two drying. In order to ensure the coating quality of color coated aluminum sheet products, it is necessary to carry out pre-treatment work such as oil removal, dust removal and rust removal on the surface of base material before coating, which is the first step to ensure the coating process and the basic work to ensure the quality of color painted aluminum coil products. The purpose of treatment is to carry out chemical coating treatment on the clean substrate surface after removing the rust proof oil, rust spot and dust attached to the substrate surface, so as to form a net chemical conversion film with Cr6 + and Cr3 + as the basic skeleton, so as to increase the adhesion between the substrate and the coating, improve the corrosion resistance of the substrate and the durability of the coating.
The quality of pretreatment (cleaning and chemical coating) determines the quality of coating, and directly affects the flexibility and impact resistance of coating. It determines the coating adhesion of color coated aluminium products. The purpose of initial coating, fine coating and curing is to apply the coating on the surface of the substrate and to volatilize the organic solvent of the coating by heating, so that the organic coating and the substrate are closely combined. Coating and curing directly affect the appearance quality and physical and chemical properties of prepainted aluminium, which is the key link of production control.
Contact Us
1103, No.14 Waihuan Road, CBD,Zhengzhou, China
+86-0371-65621391