As a pre painted aluminum sheet supplier, Haomei Aluminum produce color coated aluminium with various colors and long service life. Color pre painted aluminum sheet is one of the important products in the aluminum processing industry. The production of painted aluminum includes degreasing of aluminum substrate, chemical pretreatment and coating process. A typical coating system requires the product to have formability, beautiful surface, good weather resistance, paintability, etc.
For color coated aluminum products, the most important process is the technical level of color aluminum coating. In actual production, the roller coating process is currently the most effective way to apply organic protective coatings. The roller coating process is a continuous and highly automated process, and the products produced have better consistency than the post-coating method.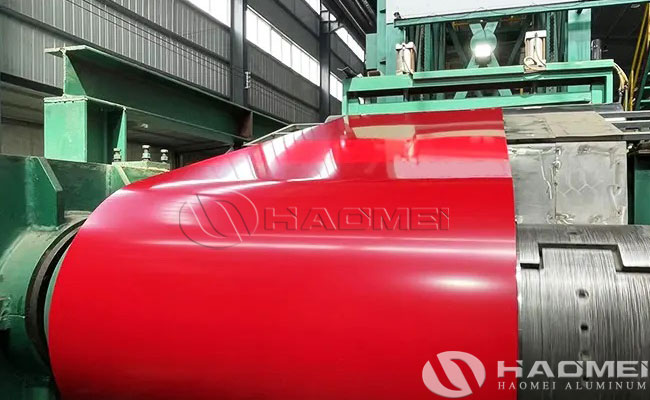 As a leading pre painted aluminum sheet supplier in the aluminum processing industry, Haomei Aluminum has accumulated rich experience in the production of roll coated and pre painted aluminum sheet. In the roller coating process, the control is strengthened in many aspects to ensure the superior performance of the color coated aluminum sheet.
In the first step, in the import section, the raw aluminum coil is sent to the production line, and is flattened by a flattening machine. This process ensures that the product has excellent flatness. Aluminum coils go into the stocker. There are two reels here to ensure that one of them is always on standby to maintain continuity in the production line.
In the second step, the storage rack is emptied, and the production line continues to work, driving the subsequent procedures. During pretreatment, the aluminum coil is repeatedly cleaned by water spraying, which can improve the anti-corrosion performance of the product and improve the adhesion of the coating. During this stage, a conversion coating is chemically formed on the aluminum surface.
The third step is the painting process. The painting process is mainly divided into two stages, called primer and topcoat. In the first stage, the aluminum coil is primed on one or both sides by a roll coater. After drying, the aluminum coil passes through a second roller coater, where one or both sides of the aluminum coil are coated with a topcoat. There are basically two coating methods.
Contact Us
1103, No.14 Waihuan Road, CBD,Zhengzhou, China
+86-0371-65621391