pp cap printed aluminium sheet suppliers -Haomei are specialized in manufacturing pp caps aluminium closure sheet 3105 H16 and 8011 H14. The main application fields of aluminum pp caps are: for cosmetic caps, for cans, for wine caps and for medical caps. In the process of producing aluminum coil sheet for pp cap material, there are high requirements on the surface, plate shape and punching performance of the material.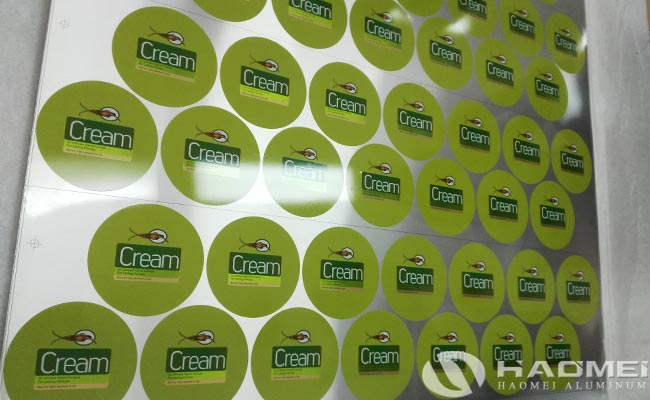 Printed aluminium closure sheet for pp caps are widely used in the packaging of products. Because aluminum has good oxidation resistance, a dense oxide film is formed on the surface, which protects the original physical properties of the product and has good sealing performance. It ensures that the product is not in contact with the outside world. Therefore, it has an extremely wide range of uses that are common in our lives. For example, the medicinal bottle pp cap usually use 8011 H14, which is mainly used in the closed port of the infusion bottle, its thickness is in the range of 0.018-0.04mm, which has a good sealing property. In addition, the 3000 series of 3105 aluminium closure sheet are mainly used on cosmetic bottle caps, plus the beautiful appearance, different shapes, painted with bright colors, finely crafted, it is a very good choice to be used in high-end cosmetics. The 5052 aluminum closure pp cap material is used on the cap of the can, the 5000 series aluminum alloy is added with magnesium. Its hardness is relatively better than that of other alloys. It is used on cans, which can solve the deformation caused by the pressure of the cans during transportation.
The pp cap printed aluminium sheet suppliers -Haomei can produce aluminium closure sheet alloy grades are 1060, 8011, 5052, 3104, 3105, etc., and have export printed aluminum sheet for pp caps to more than 20 countries, established good cooperative relations with well-known bottle cap manufacturers.
Contact Us
1103, No.14 Waihuan Road, CBD,Zhengzhou, China
+86-0371-65621391