Powder coated white aluminum can be divided into polyester and fluorocarbon coating according to its characteristics. The product performance of white powder coated aluminum is very stable, not easy to be corroded and has long service life. There are white, black, yellow, green, gray, red and other color with electrostatic powder coating process, and the color selection range is wider. While, the white coated aluminum sheet is one of the most common used powder coated aluminum sheet colors.
The product specification of powder coated white aluminium is:
Material: 1060, 1100, 3003, 5754, H14/ H24
Thickness: 1mm, 1.5mm, 2mm, 2.5mm, 3mm, 4.0mm, 5.0mm
Width: MAX 1850mm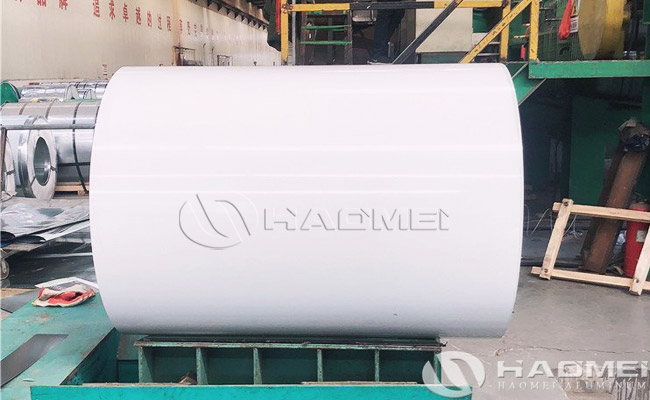 The product characteristics of white powder coated aluminum sheet are:
Ultra-high film thickness: one-time coating film thickness of 120 microns or more
High scratch resistance: abrasion and sand resistance
Acid and alkali resistance: more than 960 hours of salt spray resistance
High internal processing performance: resistant to processing, 180° bending without cracking and peeling
Energy saving and environmental protection: no solvent volatilization, energy saving and environmental protection to reduce consumption
Wide application areas: 40+ product design areas
Long service life: 6 times longer than ordinary polyester color plate
Color coated aluminum sheet is commonly used in building decoration design, food packaging, electronic and electrical, packaging and printing, road transportation and other industries. The following people look at the actual use of powder coated white aluminum in detail:
Building decoration design industry: production of roof panels, roofing, building curtain wall panels, interior wall decorative panels, ceiling panels, honeycomb panels, heat insulation and thermal insulation panels, electric rolling doors, blinds and curtains, etc.
Food packaging industry: production and manufacture of food cans without working pressure, food cans with working pressure, can lids, bottle stoppers, closing caps, pull rings, food boxes, various food packaging materials self-sealing bags, etc.
Electronic and electrical industry: manufacturing central air conditioning control panel, automatic washing machine control panel, refrigerator control panel, kitchen cabinet control panel, various digital technology electronic equipment housing.
Packaging and printing industry: manufacture of PS, CTP, UV-CTP printing plates.
Road transportation industry: the manufacture of van housing and cavity, car body panels, train trunk panels, ship car interior panels, reliable traffic facilities signage, advertising word bulletin boards, bags and leather goods.
Contact Us
1103, No.14 Waihuan Road, CBD,Zhengzhou, China
+86-0371-65621391