Color painted aluminum coil are metal decorative panels with various patterns such as printed stone grain, wood grain, camouflage, masonry grain and cloth art. The texture of color coated aluminum coil is clear and realistic, easy to process and shape, corrosion resistance, energy saving and environmental protection, easy to install, safety and other characteristics, becoming an excellent material to replace traditional stone and glass curtain wall decoration.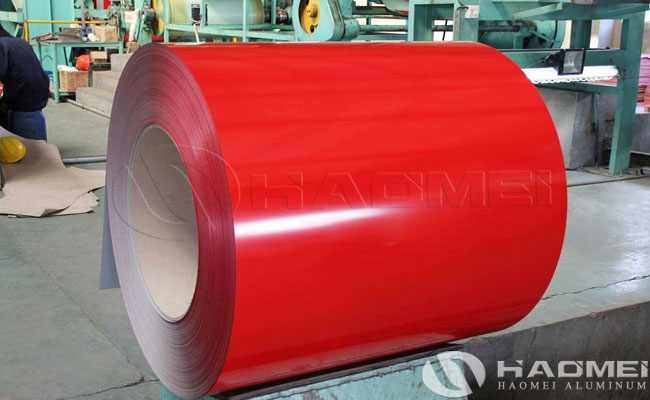 Stone grain color coated aluminum coil product has a strong three-dimensional effect, bright colors, lifelike and distinct layers. Haomei Aluminum adopt pre-roller color painted aluminum coil automatic printing production line adopts laser automatic tracking technology, and the accuracy of overprinting can be controlled within 0.03mm. It can produce pre-roller color coated aluminum coil with a thickness of 0.18mm-1.20mm and a width of 1650mm, reaching the leading position in the domestic industry technology.
Haomei Aluminum has a cold-rolled aluminum sheet production line with an annual output of 50,000 tons and complete auxiliary production equipment such as cross-cutting, slitting, stretch-bending and straightening. It adopts advanced German technology and introduces automatic production lines for drawing aluminum sheets and color coated aluminum coil sheet to produce various color types including stone grain color aluminum, embossed color aluminum, brushed aluminum sheet, mirror surface aluminum sheet, etc.
The painted aluminum coil is widely used in the roof enclosure system and ceiling decoration panels of large steel structure workshops, exhibition halls, stadiums, airports and railway stations. Aluminum-manganese-magnesium alloy color-coated aluminum coil sheets of different thicknesses can be selected, which are cut, pressed, punched, bent and other subsequent processing forming, used for large-span, large-area integral roofing and wall decoration construction panels. Also painted aluminum sheet coil can be used for interior roof decoration panels by slitting into small panels, bending, stamping mold processing, etc. Painted aluminum sheet can also be combined with foamed polyurethane and honeycomb aluminum to bond and composite for energy-saving exterior wall building decoration panels.
Contact Us
1103, No.14 Waihuan Road, CBD,Zhengzhou, China
+86-0371-65621391