Painted aluminium plate suppliers – Haomei Aluminum offer cost-effective color coated aluminum sheet for building materials. Painted aluminum sheet is now not only a new type of building material that is loved by consumers in the market, but also highly praised by experts in the field of construction. The key factor is determined by many characteristics of the color coated aluminum sheet. So, what aspects should consumers pay special attention to when choosing painted aluminum plate supplier?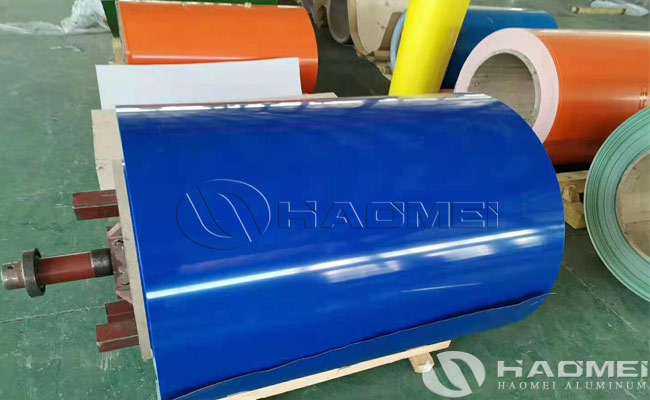 1, Pay attention to the flatness of the painted aluminum plate
Now it is very common to install color painted aluminum plate on the exterior walls. After installation, the appearance of the house is more vivid, and the color of the walls is more vivid. At this time, no other decorative items are needed. Therefore, consumers should pay attention to the smoothness of the surface of the color coated aluminum sheet. so as not to be affected by the decorative effect caused by careless materials.
2, Brand awareness
In addition, the painted aluminium plate suppliers is eye-catching because the brand is well-known, so it is the core that determines whether the manufacturer can supply the real product, which often has a good reputation of painted aluminum plate has good quality in terms of pressure resistance and coating thickness, and provides brand assurance for subsequent production projects.
3, Pay attention to the quality certification system
Generally speaking, when choosing painted aluminum sheets with reliable quality and price, consumers must pay attention to whether the quality of the relevant painted aluminum plate manufacturers has passed the certification of the quality management system. This is the core certificate for testing the quality of their own color coated aluminum sheets. It is used to judge whether the ingredients of the material are sufficient to make consumers feel at ease. The completeness of the quality inspection report and the safety certification in the system are the basic guarantees for consumers.
According to the above analysis, the reason why painted aluminium plate suppliers are popular is that, in addition to the main reason consumers like cost-effective, the product itself is light in weight, can be adapted to long-term transportation and processing, and can meet the needs of decoration and construction. The nature of the process requires that the product can also be reused from an environmental point of view. The comprehensive results show that before consumers choose color coated aluminum sheets, they not only pay attention to the flatness of the material surface, but also find out whether the brand's popularity is reliable enough. Only the color painted aluminum sheets produced by reputable manufacturers are quality guaranteed and specially inspected. Whether it meets the standards of the quality certification system to meet the quality requirements of consumers during the construction process.
Contact Us
1103, No.14 Waihuan Road, CBD,Zhengzhou, China
+86-0371-65621391