The matte white aluminum sheet is common seen color coated aluminum sheet product with RAL code of 9001, it is also called as matt white aluminium sheet. The color of color coated aluminum sheet is usually adjusted according to Ral or Pantone color card, and the paint is usually fluorocarbon or polyester paint. It is produced by the international advanced roller coating process, which can ensure that there are no dust particles on the surface of the color coated white aluminum sheet, and the color has no color difference.
The base material of Haomei color coated matte white aluminum sheet is aluminum ingot, the introduction of high-tech, combined with high-performance roller coating processing technology, combined with international advanced production technology, can effectively control the accuracy, flatness, uniform color, bright and clean of the coated aluminum sheet. The matte white aluminium sheet product has the characteristics of excellent processing performance, strong and durable, acid resistance, alkali resistance, corrosion resistance, chalking resistance, decay resistance, ultraviolet radiation resistance, friction resistance and so on.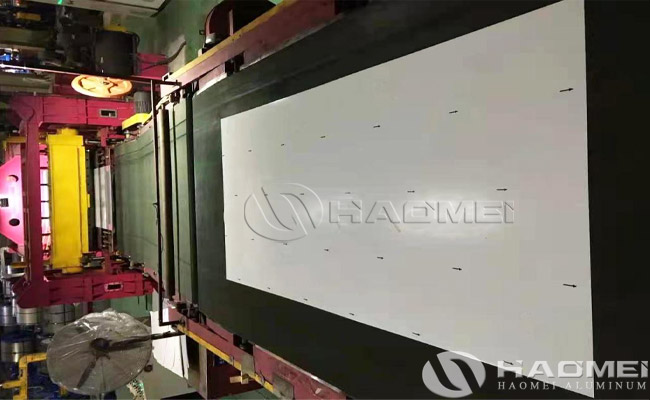 Haomei Aluminum polyester white aluminium sheet coating is generally 15-18 microns for single coating, 25-28 microns for double coating, 25-28 microns for fluorocarbon coating, white gray, duck green, etc. for back coating, and the coating thickness is 5- 8 microns. Product specifications of white coated aluminum sheet are:
Aluminum grade: 3003, 3004, 3104
Thickness: 0.026mm — 0.80mm
Width: 900mm — 1600mm
Product color: various colors
The matte white aluminum sheet produced by our company are mainly two kinds of paint films: polyester coating and fluorocarbon coating. At present, the thickness of color coated aluminum sheet is between 0.3-2.5mm. The current mainstream colors are white, red, blue, silver-gray, etc. Customers can choose different colors through the Raul color card according to their own needs.
Contact Us
1103, No.14 Waihuan Road, CBD,Zhengzhou, China
+86-0371-65621391