Hammered aluminum plate is a kind of stucco embossed sheet made of aluminum base material. The surface is densely covered with concave and convex prints the size of bean/hammertonne grains, with strong condensing or astigmatism effect, high reflectivity, rich colors, light texture and hard surface. The beautiful appearance of hammered aluminium sheet can meet modern people's pursuit of high-end quality, it is mainly used in interior decoration, cabinet furniture, advertising signs, aircraft or train interiors, lighting industries, etc. The surface of the hammered aluminum sheet is beautiful and generous, and it has a good astigmatism effect.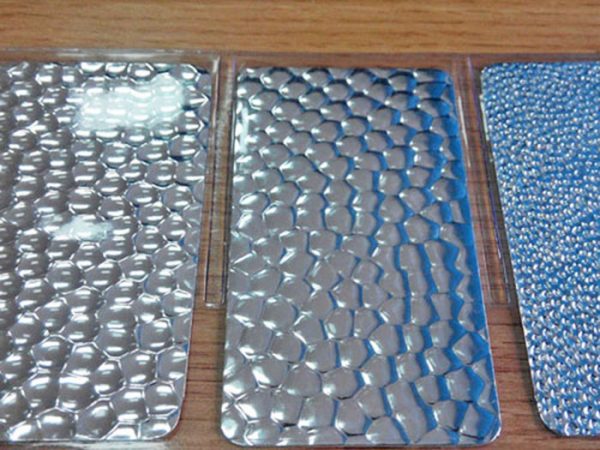 The product specification of hammer aluminum sheet plate are:
Alloy: 1xxx series. 3xxx series, 5xxx series series, etc.,
Grades: 1060, 3003, 5052, 5005
Temper: O, H22, H24, H14, H26, H18
Thickness: 0.2-4.0 mm
Width: 600-1500mm
Length: 800-6000mm can be processed according to user requirements.
Plate packaging: wooden boxes, wooden pallets, carton packaging.
Coil packaging: vertical, horizontal wooden pallet packaging, outer fiber, paper packaging.
The hammer aluminum can be anodized or mirror polished, after treatment, the surface shows more value. After oxidation and other processes form a high-quality hammer embossed aluminum plate with a dense layer of aluminum oxide protective film on the surface. It is resistant to acid rain, has a long-lasting luster and a beautiful pattern. Stable anti-corrosion performance, strong adhesion, no falling off, impact resistance, no toxic side effects, safety and environmental protection. The surface of the hammered aluminum sheet product is clean and glossy. After electro-oxidation, the residual oil on the surface of the hammer tonne aluminum plate can be eliminated, and there is no fingerprint after manual handling.
Contact Us
1103, No.14 Waihuan Road, CBD,Zhengzhou, China
+86-0371-65621391