The aluminum material is used for generator exhaust pipe insulation, aluminum material is durable under high temperature and has environmental protection features. The heat insulation aluminum jacket is made of light material, and after being anchored, it can prevent vibration and deformation when the exhaust pipe is working. The engine exhaust pipes for generators are slightly different from those of ship engines. Due to the small space, the thickness of the pipe insulation structure needs to be thinner, and embossed aluminum jacketing can be used to achieve the ideal thermal insulation effect.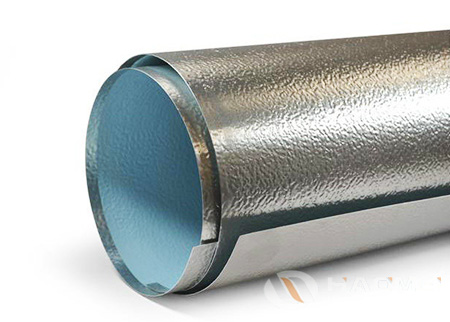 Haomei Aluminum is a professional thermal insulation aluminum jacket production enterprise can produce various thermal insulation aluminum jacketing products, which have the advantages of high flatness, no surface optimization, no scratches, and uniform thickness. At the same time, At the same time, our aluminum jacket for pipe insulation has removed the material head and tail, so there is no problem of uneven thickness of the tail. As applied to generator exhaust pipe insulation, the embossed aluminum is more common seen, the stucco embossed surface will increase the insulation effect.
The product performance of generator exhaust pipe insulation are:
1, Excellent heat insulation effect, high and low temperature resistance (high temperature resistance 1200 ℃, extreme cold and low temperature resistance -70 ℃);
2, It has chemical stability and is resistant to corrosion by various chemical liquids such as acids, alkalis, salts, chemical additives, etc.;
3, Self-cleaning: no engine oil stains and hydrophobic performance;
4, Fire-resistant and flame-retardant (fire-resistant class A non-combustible, national standard GB8624-2006, German standard DIN4102, class A1);
5, Aging resistance, weather resistance, rain and snow erosion resistance, and sunlight resistance.
Contact Us
1103, No.14 Waihuan Road, CBD,Zhengzhou, China
+86-0371-65621391