High quality stucco embossed aluminum coil is processed by pressure embossing equipment on the surface of aluminum coil. After embossing, the surface area of embossed aluminium coil increases, and the heat exchange area increases. Therefore, stucco embossed aluminum is commonly used in refrigerator and air conditioner industry, in addition, it is used in equipment, pipeline and water heater liner insulation industry.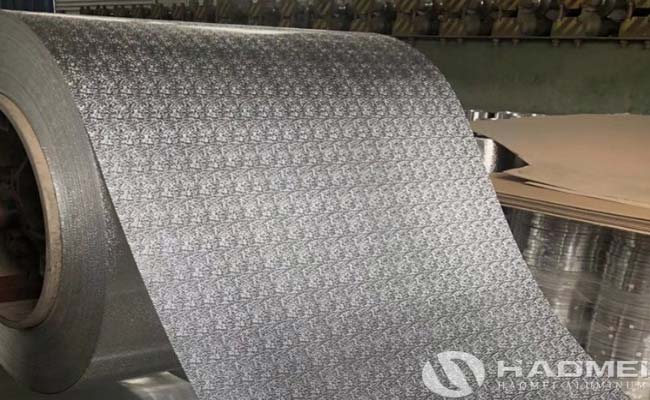 The common pattern of stucco embossed aluminum coil is orange peel pattern, which suitable for heat preservation industry and electrical products, boiler insulation, tank insulation, pipeline insulation, refrigerator liner, air conditioning insulation, etc., Haomei supply stucco embossed aluminum sheet with thickness of 0.3mm, 0.35mm, 0.4mm, 0.45mm, 0.5mm, 0.6mm, 0.65mm, 0.7mm, 0.75mm, 0.8mm, 0.95mm, 1.0mm, the regular width are 1000mm, 1200mm, special specification can be customized according to the customers requirements. Haomei do not only supply high quality 1060, 3003 embossed aluminum coil product, but also offer fast production & delivery, low price and best service.
The embossed aluminum coil is usually applied in heat dissipation, decoration, packaging, air conditioning, disinfection cabinet. When used in refrigerators and cold storages, it is only for insulation, the refrigerator is generally an embossed aluminum plate evaporator, such a evaporator has a large refrigeration area, a fast cooling speed and a good cooling effect. After surface treatment, the corrosion resistance is better. When applied in chemical / pipe  insulation cladding, the stucco embossed can be laminated with poly moister barrier film such as poly craft paper and polysulyn.
Contact Us
1103, No.14 Waihuan Road, CBD,Zhengzhou, China
+86-0371-65621391