The diamond plate sheet metal is made of rust-proof aluminum alloy as the matrix and rolled with a special pattern. The most common are the five-rib patterned aluminum plate (shaped like a willow leaf) and the pointer type aluminum diamond plate. Aluminum diamond plate sheet has exquisite patterns, is not easy to wear, has good anti-skid performance, strong anti-corrosion, and is easy to wash. Thus, it is widely used in walls, elevators, trains, buses, steps, subways, factory escalators, work frame pedals, ship decks, car floor, etc.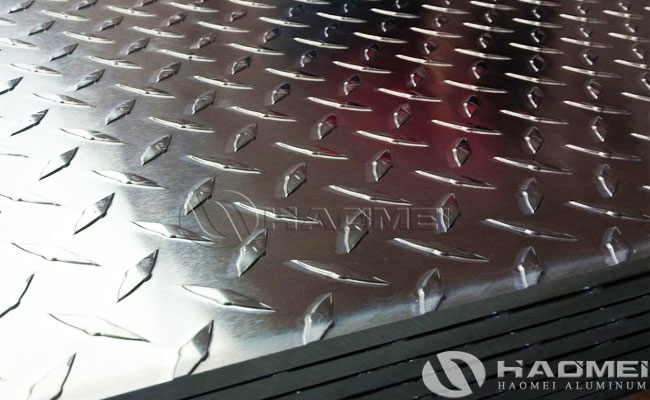 The diamond plate sheet metal are processed by using a pair of steel rollers to press out, the pattern is engraved on the steel roller, adjust the center distance of the two steel rollers and make the steel roller rotate, the flat aluminum plate passes between the two steel rollers, and the pattern is imprinted on the aluminum plate. This is just one of the processes, and there are various other differences, and the processing technology needs to be specifically formulated according to the pattern. If the general anti-skid use is enough, the 1000 series pure aluminum is enough, that is, the aluminum diamond plate sheet metal processed with 1060 aluminum sheet as the base. For wet environments, 3003 aluminum diamond plate can be used, which has strong corrosion resistance and easy formability. For ship decks, even 5083 checkered aluminum sheets can be used. The 6061 diamond plate is known for its high strength, durability and anti-skid characteristics. In terms of hardness, the heat-treated 6061T6 aluminum alloy is higher than 3003 aluminum alloy, so it is widely used in occasions that require high hardness and durability. Specifications can be customized according to your requirements. The normal specification is 1220*2440mm.
Due to its reasonable price, high ductility, and strong mechanical properties, diamond plate sheet metal are widely used in industrial and interior decoration fields. In addition, the aluminum diamond plate is also very suitable for construction fields such as elastic floors and structural materials with high safety.
Contact Us
1103, No.14 Waihuan Road, CBD,Zhengzhou, China
+86-0371-65621391