The diamond plate for front of trailer is a diamond aluminum tread plate, aluminum grade of 3003, temper H18. The aluminum diamond plate used for the front of enclosed trailer is light weight, high flatness, high bending strength, compressive strength, and high peeling strength, which can well alleviate the impact of stones on the road on the trailer. The sides and frond of trailer can be all individually covered with aluminum diamond plate, which can not only prevent scratches, but also add an off-road look to the appearance.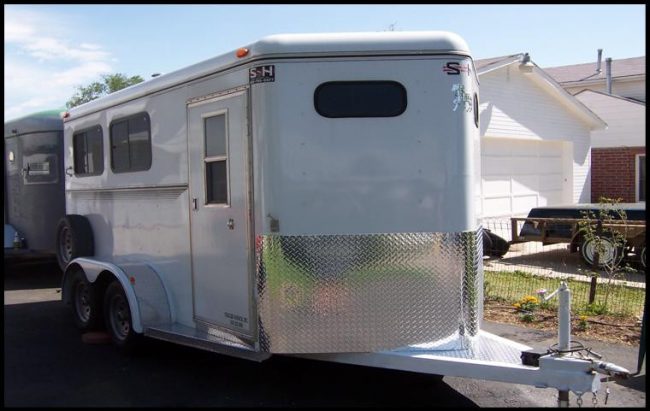 The diamond plate for front of trailer is designed for practicality, the aluminum diamond plate on the front of trailer is also very beautiful, which add highlights on the trailer body. Besides, the whole trailer body can be made of lightweight aluminum sheet. The upper part of the trailer body is made of smooth aluminum sheet 3003, and the lower part is made of aluminum diamond plate. Small scratches on branches and bushes will not leave traces, the pattern is beautiful, and the color is beautiful and generous.
Aluminum is wide used in making enclosed trailer, such as the diamond plate for front of trailer, aluminum sheet for trailer body, white coated aluminum sheet for trailer roof, aluminum tread plate for trailer floor with anti-slip function, and the trailer made of aluminum, which is light in weight and more convenient and easy to tow. We Haomei Aluminum is a supplier of aluminum for trailer in China with rich experience, the aluminum offer by Haomei Aluminum not only have high quality, but also good price, so the aluminum plate for trailer product is welcomed on the market.
Contact Us
1103, No.14 Waihuan Road, CBD,Zhengzhou, China
+86-0371-65621391