Haomei Aluminum is one of the top diamond aluminium floor plate factories in China with professional service and prime quality product. Diamond aluminum tread plate is a kind of material applied to processing floor, which can be used in the construction of mechanical stairs and some shipbuilding industries. Aluminum floor plate is a kind of stronger construction plate, it has good pressure-bearing capacity and anti-skid characteristics. The features of diamond aluminium floor plate are: waterproof, environmental protection, zero formaldehyde release, non-slip, ultra-high wear resistance, easy to install, easy to clean, zero expansion, high color fastness, high temperature resistance, mildew resistance, mothproof, corrosion resistance, comfortable feet, silent and anti-static.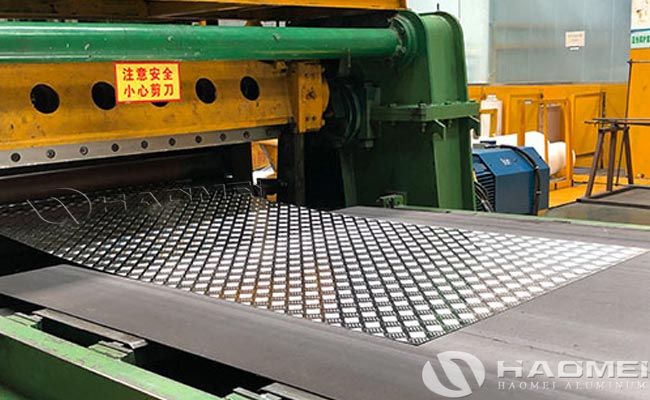 Here are are summary advantages of diamond aluminium floor plate factories product:
1, The materials can be recycled and reused.
2, Abrasion resistance: Super high abrasion resistance.
3, Easy to clean: The completely waterproof feature of the diamond aluminum plate floor makes it extremely easy to clean and maintain. It is extremely convenient and quick to rinse directly with water or clean with a wet mop. The floor is resistant to acids and alkalis, and can be dipped in solvents such as alcohol to directly remove difficult-to-remove oily stains and chemical reagents.
4, Temperature resistance: After testing, the floor has good high temperature resistance, and the material will not have any problems within 80 degrees Celsius. The diamond aluminum plate floor has good low temperature resistance. Within the range of -30 degrees Celsius, the floor has no obvious changes.
5, Anti-slip: The surface wear-resistant layer has undergone special anti-slip treatment, which can effectively reduce the slippery phenomenon, and is very superior to the anti-slip properties of tiles under water conditions. The elasticity of the floor is better than that of solid wood and laminate floors, which increases the friction between the soles of the feet and the floor, and improves the anti-slip effect.
6, Quiet sound: The floor can effectively reduce friction noise. It can have a sound insulation effect and reduce noise pollution.
7, Anti-mildew, mothproof and corrosion resistance: The floor has improved its anti-mildew, mothproof and corrosion resistance performance.
8, High color fastness: diamond aluminium floor plate factories guarantee that the product does not change color or fade when used in outdoor places.
Contact Us
1103, No.14 Waihuan Road, CBD,Zhengzhou, China
+86-0371-65621391