Colored 4×8 aluminum sheet metal is synthesized by aluminum sheet and organic painting like PE and PVDF. It can be said to be a composite material, it not only has the coloring and corrosion resistance of organic polymers, but also has the advantages of light texture, convenient processing, high strength and high hardness. Therefore, the colored aluminum sheet metal is welcomed on the market. Haomei Aluminum is a reputable color coated aluminum sheet manufacturer in China specialized in produce and export painted aluminum sheet. The colors of the prepainted aluminum sheet is in according to RAL color code, we have common used color coated aluminum size and color in stock, which can deliver to you in 1 week.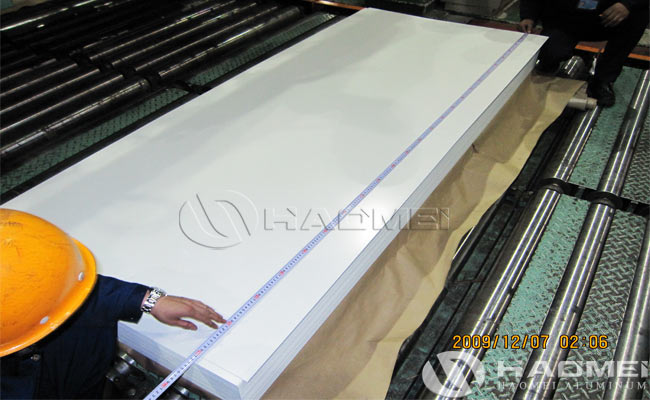 The performance of colored 4×8 aluminum sheet metal is generally tested by weak acid salt spray, and artificial aging tests are more common. On the other hand, under certain conditions, color coated aluminum sheet will have better resistance to organic chemical solubility, corrosion resistance, pollution resistance and other characteristics. The service life of colored aluminum sheet metal is related to the product quality, manufacturer, painting thickness, use environment and so on. The PVDF colored aluminum sheet offered by Haomei Aluminum can be used as long as 25 years. The specification of color coated ed 4×8 aluminum sheet metal are:
Thickness: 0.18mm-2.5mm
Common widths: 1000mm, 1200mm, 1250mm, other special widths can be requested by customers;
Commonly used alloys: 1100, 3003, 3004, 8011, 3105, 5052, other alloys can be requested by customers.
Quality characteristics of colored 4×8 aluminum sheet metal are:
1, Pollution-free and economical
In order to reduce the investment cost and staff related to the painting equipment, shorten the working time, improve the work and improve the economic efficiency, in the future, due to the improvement of the awareness of environmental protection and the strengthening of industrial control, the color coated aluminum sheet will be more necessary.
2, Wide range of uses
Excellent weather resistance, corrosion resistance, high processability and beautiful appearance, etc., with its excellent quality, including building interior and exterior materials, household appliances and electrical appliances and other applications.
Contact Us
1103, No.14 Waihuan Road, CBD,Zhengzhou, China
+86-0371-65621391