The color coated aluminum roofing sheet 3003 3004 3104 3105 is colored coated on the raw material aluminum sheet or coil that applied on roofing construct. According to the different coatings, there are many kinds of products such as PE and PVDF, the performance is stable and the service life is long.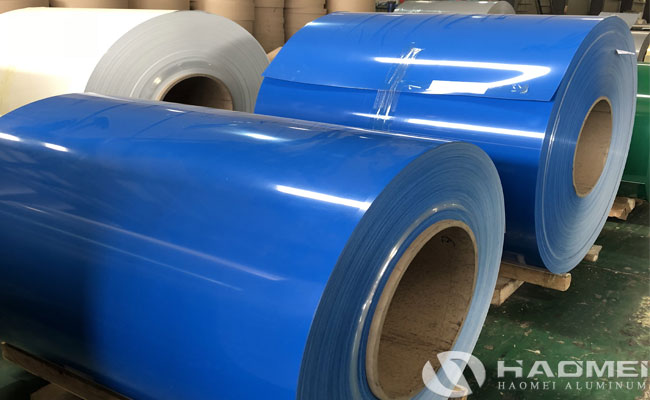 The color coated aluminum roofing sheet is processed by washing, chromizing, rolling coated, baking, etc., so that the surface of the aluminum roofing sheet is coated with paint of various colors.
1, cleaning and pretreatment
The pretreatment of the aluminum roofing sheet is repeated by the water jet spray. This method is more effective than the conventional method, and the water can be reused to reduce the energy consumption. A pretreatment stage is necessary to improve the corrosion resistance of the color coated aluminum sheet and to improve the adhesion of the coating. At this stage, the conversion film is chemically formed on the aluminum surface, and effective process technology is used to improve product quality and reduce resource waste.
2, roll coating
The color coating aluminum sheet coating process is mainly divided into two stages, namely, primer coating and top coating. In first stage, the aluminum roofing sheet passes through a roll coater and is coated on one or both sides with a primer. After drying, the aluminum sheet coil is passed through two roll coaters, at which time the aluminum sheet roll is coated on one or both sides.
3, curing
The color coated aluminum sheet is passed through a curing oven and the temperature is set at a regulated temperature to ensure that the volatiles are removed and the coating is fully cured. According to the needs of the coating system, the curing temperature is set between 200 and 300 degrees Celsius, which is the key technical point to ensure product quality. In addition, in order to protect the environment and control costs, the mist of the solvent is evaporated by high temperature to heat the curing oven.
4, follow-up processing
The color coated aluminum roofing sheet can be further processed into other shapes: rolling shutters, slitting or compression pattern.
Contact Us
1103, No.14 Waihuan Road, CBD,Zhengzhou, China
+86-0371-65621391