Coated aluminum coil suppliers China Haomei offer PE and PVDF coating painted aluminum sheet 3003, 3004 for roofing, wall, gutter and decoration. As an emerging material, the color coated aluminum has very good advantages over traditional materials. Not only is the colorful color good in anti-corrosion, moisture, fire, or rain leakage. Now more and more factories and large buildings such as high-speed railway stations and airports are built with good-quality color coated aluminum coil. Good quality color coated aluminum sheet can maintain their use for more than ten years and twenty years, and better coated aluminum sheet can not fade or paint last for ten years.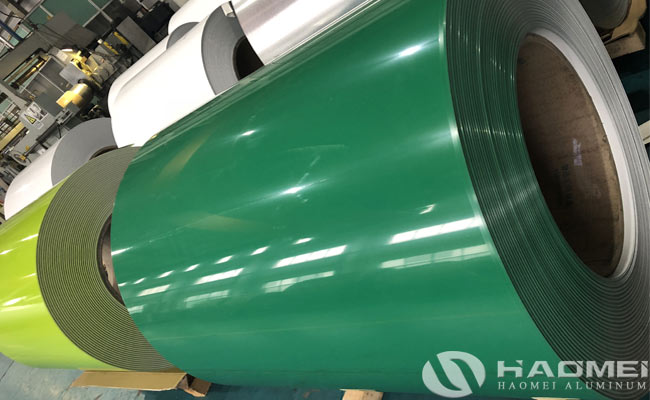 Therefore, if you want to use colored painted aluminium sheet as a building material, you must choose a durable one, otherwise it is not as durable as traditional materials, and it will lose its effect after a few years. Only by continuously improving the durability of color coated aluminum sheet can we meet the requirements of various buildings. In the process of more than ten years of color painted aluminum sheet, Haomei has continuously improved the production process to continuously improve the quality of coated aluminum coil. Until now, there are very mature color coating processes, the produced color coated aluminum coil does not fade, and has better anti-corrosion and UV resistance.
The PE and PVDF colored aluminum sheet produced by coated aluminum coil suppliers can effectively prevent the sun and rain from harming the building. The use of high galvanized layer and good paint allows the color steel plate to be used for more than fifteen years, which is more suitable for color steel buildings that need long-term use.
Contact Us
1103, No.14 Waihuan Road, CBD,Zhengzhou, China
+86-0371-65621391