Cheap price a5052 aluminum plate in Haomei Aluminium has good forming performance and corrosion resistance. It is a widely used anti-rust aluminum. The 5052 aluminum plate are widely used in trolley boxes, fuel tank materials, liquid crystal back panels, tank materials, door panels, high-voltage switch housings, etc. The surface has no peeling, bubbles, cracks, corrosion and nitrate traces, high plasticity and corrosion resistance. After reprocessing, 5052 aluminum sheet can improve its strength and hardness. It is used to manufacture machinery and equipment, and the market feedback is good.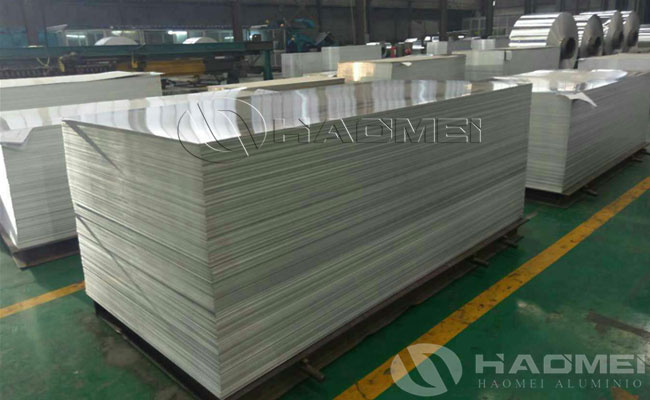 The specification of cheap price a5052 aluminum plate are:
Alloy: 5052
Temper: O, H32, H34, H36, H38, H111, H112
Thickness: 0.18-8.0mm
Width: 20-2200mm, can be used as super wide material
Length: 50-8000, can be used as super long material
5052 aluminum sheet technical parameters: Tensile strength 165~30; Yield strength 65~210;
Category: 5000 series aluminum plate, alloy aluminum plate, rust-proof aluminum plate
Supply method: aluminum plate, standard plate, coated aluminum plate
Finishing: Cut to length, super-long aluminum plate (8000mm), super-wide aluminum plate (2200mm), fixed-length and fixed-width shearing
Surface treatment: light aluminum, mirror surface, aluminum sheet with paper, aluminum sheet film, pattern aluminum sheet
Packaging and transportation: Simple package, refined package, logistics package, foreign trade shipping package (optional export fumigation wooden pallet)
Features of the cheap price a5052 aluminum plate supplied by Haomei Aluminium are:
Thick plates can be flattened, 5~8mm thick plates can be flattened to length, while ensuring excellent flatness
CNC cutting small plates, the lower limit of length and width can reach 20/50mm
Cut to length and open and clamp paper
Anodized grade 5052 aluminum plate is available from stock to ensure that it can be anodized.
Contact Us
1103, No.14 Waihuan Road, CBD,Zhengzhou, China
+86-0371-65621391