The caravan roof sheeting refers to the color coated aluminum sheet applied to the roofing of caravans. Haomei Aluminum is an experienced manufacturer of caravan aluminum sheet and trailer aluminum sheet product. Nowadays,  the floor, side, roof and rear of the caravan are made of aluminium sheets. This ensures higher driving comfort and better driving dynamics. The technological process of caravan is to first use aluminum to build the body frame, then install painted aluminum sheet on the sides of the car body, install aluminum sheets on the roof, and then use sealing materials to treat the splices. The aluminum caravans do not only durable, but also safe and environmentally friendly. The all aluminum caravan body design not only reduces fuel consumption, but also improves handling and safety.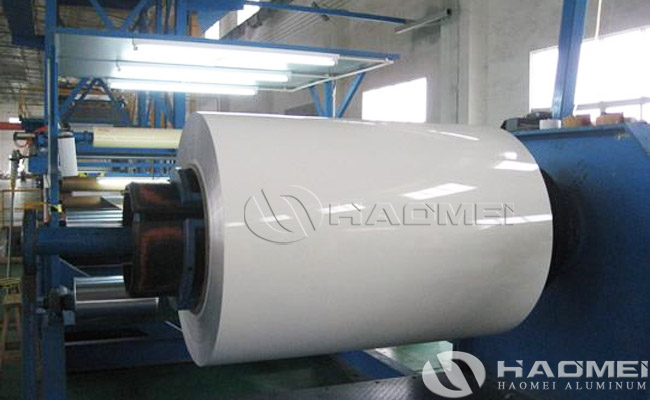 The caravan roof sheeting mainly adopt white aluminum sheet, the side panels are the same, but they are a little different in alloy selection. So the appearance of caravans is white body, it has the advantages of high strength and light weight. Better ductility and plasticity of caravan aluminum sheet ensure the molding effect of the body, and also ensure the overall firmness of the body. The strength of the all-aluminum caravan is higher than that of the ordinary steel body, and it is more resistant to corrosion. The caravan and trailer aluminum sheet has been tested by many rain experiments. Inner roof of refrigerated container, refrigerated van cargo compartment, inner and outer box of RV.
Haomei Aluminum adopt the ultra-wide pre-roll coating production line produces double-sided color coated caravan roof sheeting products, which are widely used in construction, rail transit, automobile manufacturing and other industries. Especially the ultra wide double sided color coated aluminum coil within 2630 mm, which is widely available. Mainly used for the compartment board of vans, refrigerated trucks and caravans.
Contact Us
1103, No.14 Waihuan Road, CBD,Zhengzhou, China
+86-0371-65621391