Anodized gold mirror aluminum coil refers to aluminum coil products that achieve a golden mirror effect on the surface of aluminum materials through special process treatment on the basis of mirror aluminum sheet. The surface of the mirror finish aluminum sheet, which has undergone anodized treatment, is as smooth as a mirror. The oxide layer protects the aluminum sheet itself, giving it high hardness, wear resistance, and excellent corrosion resistance. At the same time, the gold mirror aluminum coil can directly meet the color requirements of customers for mirror aluminum sheets and can be directly processed, saving time and reducing costs.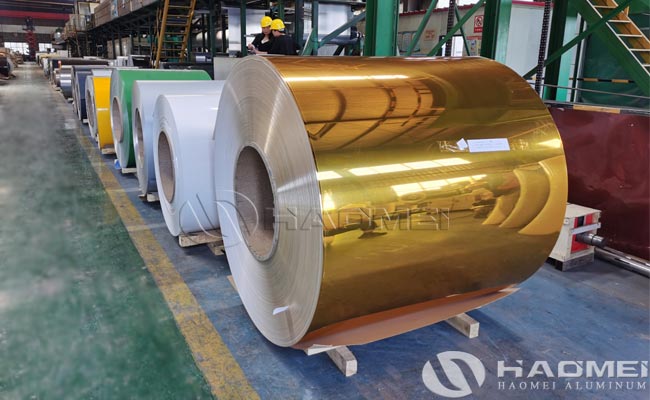 Product characteristics of anodized gold mirror aluminum coil:
Hardness characteristics:
Uniform hardness, suitable for complex stamping, bending, stretching, and forming without easy breakage. It is oxidation-resistant, corrosion-resistant, and heat-resistant.
Surface treatment characteristics:
The mirror finish anodized aluminum sheet is pure, suitable for high requirements and stable anodized surface treatments, such as chemical polishing, atomization, chemical sandblasting, electro polishing, dyeing, sealing, and other processing methods.
Mirror characteristics:
The mirror finish of this material is produced by mechanical polishing. There is no electroplating coating on the surface. There is no need to remove the anodized or electroplated film before spraying or anodizing. The roughness of sandblasting can reach above 240#, and no pretreatment is required. It can be directly printed and stamped with high reflectivity.
Application industries of anodized gold mirror aluminum coil:
Building industry: Small hardware decorative materials, ceilings, curtain walls.
Electronic industry: Electronic product housings, badges.
Commercial use: Lighting products, household appliance panels, elevator cabin decorative surfaces, keypad panels, elevator doors, ornaments, signs, jewelry boxes, gift boxes.
Special applications: Solar heat collection reflective materials.
Contact Us
1103, No.14 Waihuan Road, CBD,Zhengzhou, China
+86-0371-65621391