Aluminum stucco sheet embossed with moisture barrier, also known as stucco embossed aluminum with polykraft paper or polysurlyn film. The aluminum stucco sheet embossed finish is mostly used for thermal insulation of pipeline tanks in power plants, chemical plants, and oil refineries. It has the advantages of uniform thickness, no color difference, no macula, no scratches, good bending performance, convenient construction. The thickness of stucco embossed aluminum jacketing sheet is generally 0.1-1.5mm thickness, the width is generally 1000-1300mm, the alloy of aluminum sheet with moisture barrier are 1060 3003 3A21.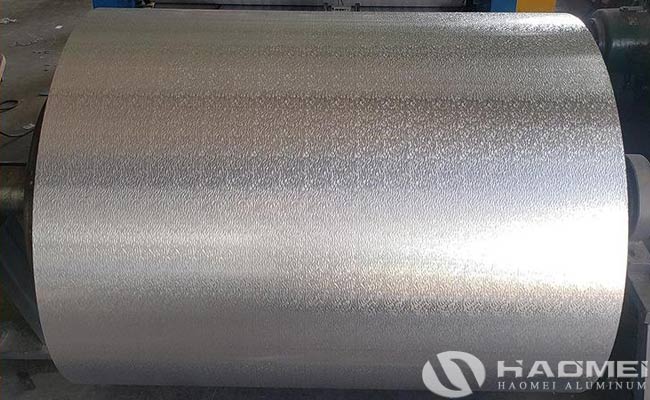 The weight of 0.5mm aluminum sheet stucco embossed with moister barrier is 1.355 kg per square meter, after unfolding, it has high flatness, no macula, scratches and other defects. The commonly used length is 10 meters , 20 meters 30 meters 40 meters and 50 meters. The roll of aluminum sheet with moister barrier can be broken according to the length you need, and the packaging does not charge any fees. Wooden frame + moisture-proof agent + moisture-proof paper + fiberboard + fine packaging = waterproof overall packaging for export vertical packaging. Aluminum jacketing with moister barrier have uniform board thickness, no color difference, moderate heat preservation effect, moderate thickness tolerance of plus or minus 0.02mm, and can be opened to any length. The weight of a single roll is about 2.5-2.9 tons, and the number of meters per roll is 1800-2200 meters.
The aluminum stucco sheet embossed with moisture barrier is beautiful, durable and has good overall performance. Aluminium jacket sheet insulation is not only used as a normal transportation method for heating pipelines, but also has a certain safety effect, with strong corrosion resistance and waterproof. The compressive strength of embossed aluminum sheet for insulation products can reach 0.4MPa, reaching a low bulk density, high strength. It is not easy to be broken during construction, is easy to construct, and has high efficiency, light weight, reducing pipeline load. Superior weather resistance, enhanced tensile and compression resistance, and increased service life. On-site installation is organized, construction efficiency is high, and construction period can be effectively saved.
Contact Us
1103, No.14 Waihuan Road, CBD,Zhengzhou, China
+86-0371-65621391