5000 series aluminum skin for trailer are typical alloy in Al-Mg series alloys, the grade are 5052, 5454 and 5754. 5000 series aluminum for trailer skin has medium static strength, excellent corrosion resistance, weldability, easy processing and forming, high fatigue strength, good plate shape, excellent gloss, no cracks, no corrosion spots, good sheet plate surface quality. 5000 series aluminum sheet can be widely used in electric welding structures, storage tanks, pressure vessels, automobiles, trucks, ship structures and offshore installations.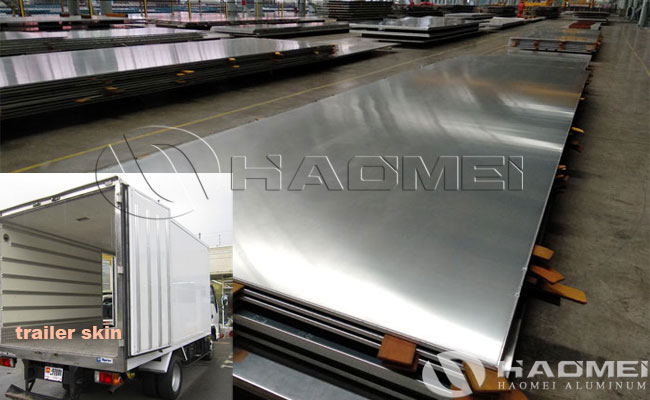 The aluminum skin trailer carriage has the characteristics of light weight and not easy to loosen. At the same time, the weight of the whole vehicle is reduced, which improves the loading efficiency of the vehicle. The aluminum trailer not only meets the needs of transportation, but also appears full and beautiful in appearance, and get the attention of more users. Nowadays, the aluminum sheet for trailer skin is made of a special process combination, and is treated with an anti-corrosion protective film. It has a heavy anti-corrosion base coating and a fluorocarbonic acid baking coating. So the aluminum trailer has the characteristics of strong corrosion resistance, high strength, easy maintenance, heat insulation, fire prevention, and sound insulation.
The parameter information of 5000 series aluminum skin for trailer are:
Alloy: 5052, 5754, 5454
Thickness: 0.1-500mm
Width: 20-2650mm
Material temper: H111
Applicable fields: inner and outer wall panels, bottom panels, carriage panels, etc. of railway passenger cars.
Contact Us
1103, No.14 Waihuan Road, CBD,Zhengzhou, China
+86-0371-65621391