Haomei Aluminum is a leading aluminum sheet exporter based in China, and our customers cover more than 70 countries all over the world. The aluminum sheet product produced and exported by Haomei Aluminum can be divided into thin sheets, thick plates and extra-thick plates according to their thickness. The thickness of the aluminum sheet can be up to 200mm, the width of the aluminum sheet can be up to 5m. Since aluminum sheet materials have been widely used, aluminum materials processed in various ways have appeared in social life, such as aluminum doors and windows, aluminum pots, automobile, bus, ceiling, roofing, wall, furniture etc., are the main application methods in social production and life.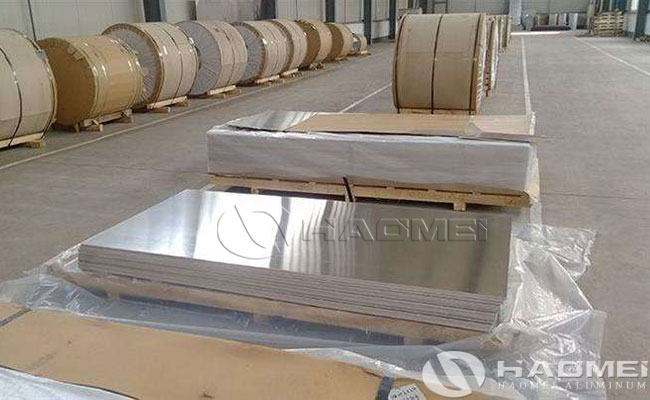 Generally, the finishing equipment used by aluminum sheet exporter are mainly stretch-bending straighteners, slitting machines, oil-clearing equipment, etc., by combining these finishing equipment reasonably to form a complete production process of aluminum sheet. Take the stretch-bending straightening machine as example, which generally uses for aluminum sheet coil less than 1 mm, while the roll straightening machine mostly used for the thick aluminum plate, but it is necessary to strengthen the effective width control of the aluminum plate during the finishing process, increasing slitting and thickness shearing are the main means to effectively control the width of the thick aluminum sheet.
Haomei Aluminum is a famous aluminum sheet exporter and manufacturer in Henan province, China, the surface of the aluminum sheet plate produced by Haomei Aluminum has no skinning, bubbles, surface roughness and local mechanical damage, no cracks, no corrosion spots and traces of nitrate on the surface of the aluminum plate. Haomei Aluminum have 6 semi-continuous casting production lines, 10 continuous casting rolling production lines and 44 other large-scale processing equipment, with an annual output of 200,000 tons.
Contact Us
1103, No.14 Waihuan Road, CBD,Zhengzhou, China
+86-0371-65621391