Aluminum sheet al 1050 factory – Haomei Aluminum is an experienced supplier of aluminum sheet 1000 series to 8000 series. The aluminum content of 1050 aluminum sheet is as high as 99.5%. It is also called pure aluminum sheet. Its technology is relatively mature. It has multiple advantages such as high elongation, tensile strength, excellent conductivity, high formability, excellent plate shape, and high gloss. Aluminum sheet 1050 can meet the conventional processing requirements (stamping, drawing) requirements. The thickness of 1050 aluminum sheet is 0.1-500mm, and the width is 100-2650mm.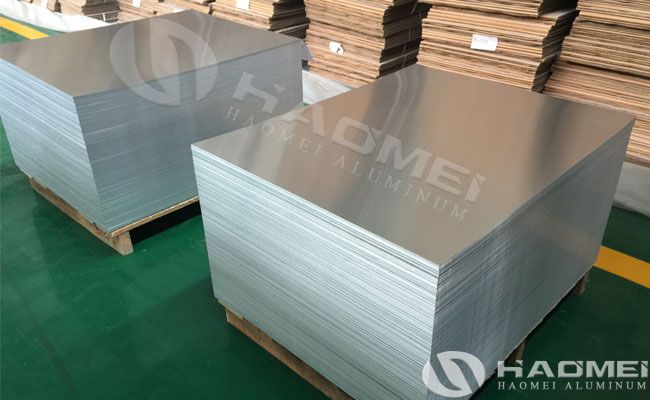 In aluminum sheet al 1050 factory, 1050 can be one of the cheap aluminum sheet grades, together with aluminum sheet 1060, aluminum sheet 1070 and aluminum sheet 1100, they form 1000 series of aluminum sheet product. Pure aluminum 1050 has the characteristics of high plasticity, corrosion resistance, good electrical and thermal conductivity, but low strength. It is not strengthened by heat treatment and has poor machinability. It can accept contact welding and gas welding. 1050 aluminum sheet are often used in daily necessities, lighting appliances, reflectors, decorations, chemical industrial containers, heat sinks, signs, electronics, lamps, nameplates, electrical appliances, stamping parts and other products. In some occasions that require high corrosion resistance and formability, but not high requirements for strength, 1050 aluminum sheet can also be used, and chemical equipment is its typical use.
Advantages of aluminum sheet al 1050 factory:
1, 1050 aluminum sheet has good forming characteristics, high corrosion resistance, good electrical and thermal conductivity;
2, aluminum sheet 1050 has long service life, low cost, and high recycling value;
3, 1050 aluminum sheet processing technology is mature, and the price has a great advantage compared with other series of alloy aluminum sheets;
4, Haomei Aluminum have 6 semi-continuous casting production lines, 10 continuous casting and rolling production lines, and 44 other large-scale processing equipment.
Contact Us
1103, No.14 Waihuan Road, CBD,Zhengzhou, China
+86-0371-65621391